Library to show Waterhouse works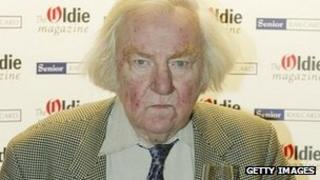 The archive of Billy Liar author Keith Waterhouse is to be exhibited at the British Library.
Manuscripts of his novels and short stories - some of them unpublished - have been donated to the library by the Waterhouse family.
Zoe Wilcox from the British Library, said the collection is an "important addition to our national collection".
Writing Britain: Wastelands to Wonderlands will start on 11 May.
Speaking to Radio 4's Today programme, Ms Wilcox said the collection includes "61 large boxes full of manuscripts of his novels, screenplays, his plays, journalism, his memoirs".
She said the archive begins from "when he was a teenager in the late 1940s, up until his death in 2009".
A well known journalist, columnist, novelist , playwright and screenwriter, he began some of his writing in his native Leeds.
Visitors to the exhibit will be able to view Waterhouse's notebook for his third novel Jubb and an article from the Department of Transport magazine, where he wrote as if hr was the M25.
The collection also includes letters and notes from Alfred Hitchcock relating to the screenplay Torn Curtain, for which Waterhouse and Hall provided rewrites, but were not credited once the film was released.
Columnist and journalist Jaci Stephen said: "He was an incredible wordsmith. It was always the right word in the right place."
She added that he had been "able to write about anything".
Richard Ingrims, editor of the Oldie Magazine and former editor of Private Eye, said: "He was a very prolific writer. He probably wrote too much, but he thought that was what writers were meant to do."
As well as the Waterhouse archive, the exhibition will also showcase works by other great writers.
Organisers said it would explore how writers from "Chaucer and Shakespeare to Virginia Woolf and Hanif Kureishi have been inspired by, and helped to shape, the nation's understanding of landscape and place".