Smash stars play down Glee comparisons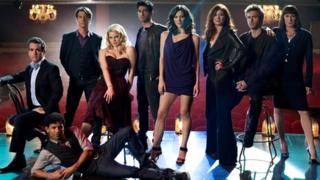 It features cover versions of hit tunes, elaborate dance routines and actors bursting into song. But please don't compare us to TV hit Glee, say the stars of new US show Smash.
"If we were talking about a cop show, everyone would be pretending this was the first cop show in the history of television," sighs British actor Jack Davenport.
"But there's one show with singing, and everyone says it's like Glee."
It is a well-honed line from the 39-year-old - one he has probably been reiterating ever since Smash made its US debut in February.
Given Glee's phenomenal success, however, it was inevitable Smash would be seen, at least to some, as a canny opportunist seeking to capitalise on the new-found appetite for glossy musical drama.
Conceived by Steven Spielberg, Smash goes behind the scenes of an original musical - based on the life of Marilyn Monroe - as it wends its way from the rehearsal room to the Broadway stage.
Its characters include a cash-strapped producer, a tyrannical director, a successful songwriting duo and two ambitious young actresses vying for the lead role.
According to Spielberg, the programme is "our own little illusion that gives a peek behind the curtain into the colourful and exciting world of Broadway".
Yet it is also a throwback of sorts to such classic theatre-based films as All About Eve, 42nd Street and All That Jazz, with nods along the way to Gypsy, The Wizard of Oz and Monroe's own movie output.
One fresh aspect is the inclusion of original musical numbers, written especially for the show within the show by Hairspray composers Marc Shaiman and Scott Wittman.
In common with Glee, though, Smash also features cover versions of contemporary hit records by such chart-topping talents as Bruno Mars, Rihanna and Michael Buble.
Shared song
"It's about people who work in the musical world, so there are lots of opportunities to sing," says Jack Davenport, aka demanding director-choreographer Derek Wills.
"It'd be gratuitous if it were a show about firemen, but it's not because they work in musical theatre."
Gratuitous or not, it is hardly surprising people should make connections between Smash and Glee, now coming to the end of its third season.
Indeed, the two shows even have songs in common - Adele's Rumour Has It, featured in Glee and Smash episodes aired only months apart, and Beautiful by Christina Aguilera.
"Glee did open a door for us, there's no doubt about that," admits Davenport, fondly remembered by many for his role as randy lawyer Miles in 1990s drama This Life.
"But the world our show operates in is a realistic world, with a completely different entry point into the musical element."
That entry point is one very familiar to actress Megan Hilty, a stage school graduate with lead roles in Wicked and 9 to 5: The Musical under her belt.
"It's an honour to get to represent the Broadway community on television," says the 31-year-old, whose character, Ivy Lynn, keenly covets the Marilyn part.
"There are 15 different dreams coming true for me in this one job. It's everything I've ever wanted to do, and then some.
"Ivy is a very ambitious lady who has always dreamed of being a leading lady and is willing to do just about anything to make it happen," Hilty continues.
"The great thing about Ivy is one minute you might want to punch her in the face, and the next you want to give her a big hug."
'Great drama'
A key component of Ivy's story "arc" is her off-stage rivalry with chorus girl Karen Cartwright, played by former American Idol runner-up Katharine McPhee.
"As actors we feel like we're replaceable," Megan explains. "That feeds this feeling of insecurity, which breeds great drama."
Smash has been a ratings success in the US and has been recommissioned by its parent network, NBC.
That is heartening news to Davenport, whose previous forays into US television, Swingtown and FlashForward, were both cancelled after one season.
"Network television is very Darwinian," he shrugs. "That's the gamble you take doing shows in a commercial arena.
"If it was a licence fee or a subscription [channel] like HBO, things would be different. But this is how this part of the jungle is run."
Ratings will be less of a factor for Smash in the UK, where it will air on the Sky Atlantic subscription channel and via Sky's on-demand services.
According to a spokesperson: "Success at Sky is aligned to the value our customers place on the content we show."
Yet industry watchers will still be keen to see how it performs, especially given the modest numbers who tuned in last month when Mad Men made its Sky Atlantic debut.
Despite extensive coverage in the media, the first episode of the drama's fifth season was seen by a fraction of the audience who watched when its fourth season kicked off on BBC Four in 2010.
Smash begins on Sky Atlantic on 21 April. Glee continues on Sky 1 HD.