Titanic 3D crowns UK box office chart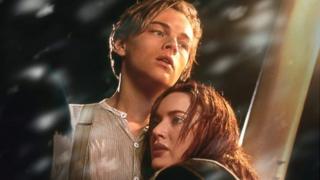 The 3D version of Titanic, starring Kate Winslet and Leonardo DiCaprio, has entered the UK and Ireland box office chart in pole position.
James Cameron's film, which won 11 Oscars after its original release in 1997, took £2.8m.
Titanic's renewed box office success comes ahead of the maritime disaster's 100th anniversary on 15 April.
Meanwhile, new figures show British films have driven the UK box office in the first three months of 2012.
Releases including The Woman Black starring Daniel Radcliffe lead the cinema chart of the year so far.
The ghost tale leads the tally with £21.1m in box office returns, followed by War Horse - adapted from the Michael Morpurgo novel and stage play - and The Exotic Marigold Hotel, starring Dame Judi Dench, Tom Wilkinson and Dev Patel.
In the first three months of last year, British Oscar-winner The King's Speech led the UK box office, while Hollywood productions Tangled and Black Swan were in second and third places.
The Film Distributors Association said that the UK remains the world's third largest cinema-going market, with 40 million admissions to screens around the country so far this year.
In this week's box office chart, Cameron's nautical disaster-romance relegated dystopian drama The Hunger Games into second spot, while Mirror Mirror was a new entry at three.
Both films took well in excess of £2m, while animation The Pirates in fourth place also broke the barrier.
Other new entries in the rundown were The Cold Light of Day at seven and Housefull 2, just making the top 10.
Titanic 3D failed to capture the top slot in the US box office, where The Hunger Games held sway, breaking the $300m (£189m) barrier for total takings to date.
Cameron's epic landed in third place with takings of $17.4m (£10.9m) over the weekend, or $25.7m (£16m) including early screenings.