BBC relief at The Voice success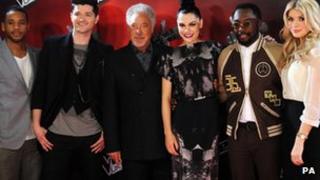 The controller of BBC One, Danny Cohen, has admitted the reception to The Voice has been "a big relief".
There had been criticism of the BBC spending licence fee money on a US import, in the style of ITV's X-Factor.
Its launch coincided with the return of Simon's Cowell's Britain's Got Talent, sparking a ratings war.
"I don't think you could do a show on the BBC where people were being laughed at and humiliated," Cohen told BBC staff.
"The combination of the warmer tone and the fact it's focused on talent rather than that comedy aspect was the reason I thought it had a chance of working on BBC One."
The Voice was a ratings hit in the US, where Christina Aguilera and CeeLo Green appear as judges.
Later slot
When it launched in the UK, with Jessie J and Tom Jones among the judges line-up, it overlapped for 20 minutes with the opening episode of Britain's Got Talent.
ITV had the most viewers overall, with a peak audience of 11.5 million watching Britain's Got Talent. An average of 9.5 million viewers watched The Voice, compared with 9.1 million for Britain's Got Talent.
But in the overlap The Voice was seen by 8.96 million viewers, compared to the 6.56 million watching Britain's Got Talent.
ITV is now moving Britain's Got Talent to a later slot to avoid a clash.
The BBC ran into heavy criticism in 2002 when it launched Fame Academy, which was viewed as a rip-off of ITV's Popstars and Pop Idol. It was eventually axed after two series.