Soweto Kinch gives Alfred Hitchcock jazz score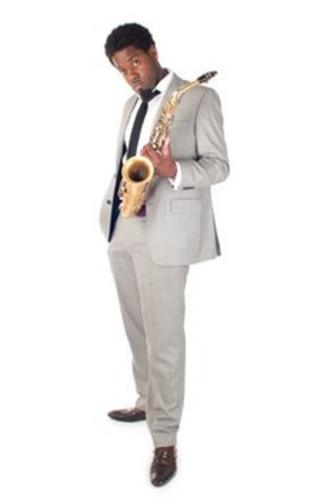 British jazz and hip-hop musician Soweto Kinch reveals why he's putting dance beats into his new score for a silent Hitchcock feature from the 1920s.
It is the heavy-hitting boxing drama that helped inspire Oscar-winning film The Artist.
Now Alfred Hitchcock's 1927 silent film The Ring is being spruced up for the big screen and is getting a new score from Mercury Prize-nominated saxophonist Soweto Kinch.
The jazz and hip-hop artist has revealed that he is planning to put some "tactfully placed dance loops" to Hitchcock's black-and-white movie.
"It's still very much work in progress," admits Kinch, who will present the world premiere of his new score at a screening at the Hackney Empire on 13 July.
"There's no point in me crudely trying to reconstruct a silent movie score from that era," he says.
"I have the tightrope act of balancing my contemporary interests with something that's faithful to the sounds that would have been around in Hitchcock's time."
Kinch is among several composers who have been commissioned to create scores for films which are being restored by the BFI as part its Genius of Hitchcock season.
Others include Nitin Sawhney scoring The Lodger (1926), Neil Brand's music for Blackmail (1929), a score for Champagne (1928) by electronic experimentalist composer Mira Calix and Daniel Patrick Cohen's debut work will accompany Hitchcock's debut feature, 1926's The Pleasure Garden.
The BFI season will also see all 58 of Hitchcock's films screened - including classics like Psycho, Vertigo and The Birds.
Boxing melodrama The Ring is not only one of Hitchcock's earliest films, it is also his only original screenplay.
The story revolves around a love triangle between a fairground boxer (Carl Brisson) whose lover (Lillian Hall-Davies) falls for the charms of a professional fighter (Ian Hunter).
"When the BFI approached me, I think they thought: 'Let's mix it up a little,'" admits Kinch.
"As a jazz musician and a hip-hop artist, I'm somebody melding the modern with the historical and the film does that too.
"It is tremendously resonant in the modern era by being set in a multiracial East London, and it offers a different take to the stereotypical view of relationships in those times."
Kinch offered a sneak preview of his score when he played a saxophone solo over a clip from The Ring at the BFI launch event in London last week.
His jazz ensemble will handle the live score at the Hackney Empire in July.
But for the dance scenes featuring flappers - the liberated young women of the 1920s - Kinch promises something more contemporary.
"There will be live-loops and dance material that will be a lot more cutting edge, but in a way that I believe will not intrusive or disrespectful to the legacy of Hitchcock."
The London-born musician studied modern history at Oxford in the 1990s, and then carved out a music career that has led to two Mobo wins for best jazz act (2003 and 2007) and a Mercury Prize nomination for album of the year in 2003.
As well as making albums and touring, Kinch's flagship project is The Flyover Show - an annual music and arts festival in Birmingham. Last month he took his project outside the UK for the first time, to Soweto in South Africa.
With all this going on, how much has he been able to bond with the Hitchcock film?
"I've seen it quite a few times as you can imagine. I love its look, I love the graininess, and I believe the remastering process won't take any of that warmth out of it.
"I imagine this was a film that shook things up a bit when it was released. I love the fact that for a film about boxing, it's very tender."
Soweto Kinch's score will have its premiere at the Hackney Empire, London E8 on 13 July as part of the BFI's involvement in the London 2012 Festival celebrations.