Vampire soap actor Jonathan Frid dies aged 87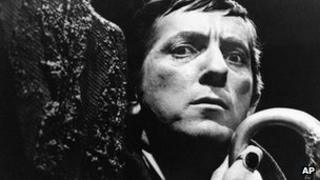 Canadian actor Jonathan Frid, best known for playing lead role Barnabas Collins in the 1960s vampire soap opera Dark Shadows, has died aged 87.
The star died of natural causes in a hospital in his home town of Hamilton in Ontario, his spokesperson Jim Pierson said.
His death comes just weeks before Tim Burton's film version of Dark Shadows is due out.
Frid had a cameo role in the movie, which stars Johnny Depp and Eva Green.
According to Pierson, both Burton and Depp were huge fans of Frid, who played a vulnerable vampire in the show.
Pierson claimed Frid's "multi-dimensional" performance had a "huge pop culture impact".
"It really set the trend for all these other things that have been done with vampires over the last 40, 50 years," he said.
He added: "Twenty million people saw the show at its peak in 1969. Kids ran home from school and housewives watched it."
Frid served in the Royal Canadian Navy during the Second World War.
He earned a degree in directing at the Yale School of Drama and also studied at the Royal Academy of Dramatic Arts in London.
Although he appeared in many stage productions it was Dark Shadows and its first feature film adaptation, House of Dark Shadows, that won him commercial success.
There will be no funeral or memorial, which Pierson said was what Frid wanted.
"He really was kind of a no-fuss guy," he said.