Analysis: Rupert Murdoch plays down political power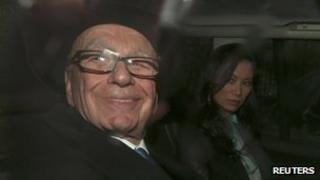 Rupert Murdoch's appearance at the Leveson Inquiry was never likely to match the drama of his son James's day in court, and so it proved.
As the media mogul was being quizzed about his 1981 takeover of The Times and Sunday Times ("we're taking things chronologically", explained Robert Jay QC), most eyes were on Westminster and the fallout from the previous day's Leveson revelations - the "running commentary" emails between News Corp and the office of the Culture Secretary Jeremy Hunt during the BSkyB bid.
The morning headlines told the story, albeit with varying interpretations from the Murdochs' rival publishers. "Minister for Murdoch" proclaimed the Guardian. "Absolutely illegal" was the Daily Telegraph's splash.
The Independent's headline "Murdoch's revenge" was echoed in the Daily Mail's, "Revenge of the Murdochs", implying that James Murdoch had deliberately published his company's internal emails to embarrass the government. In fact, they had been disclosed by order of the court - but were no less damaging for that.
Flashes of anger
By mid-morning, one of the authors of the emails - Mr Hunt's special adviser Adam Smith - had announced his resignation, admitting he had "gone too far".
But David Cameron, at Prime Minister's Questions, defended the Culture Secretary and Mr Hunt, in a debate immediately afterwards, made clear he was staying put, strongly defending the process by which he had handled the BSkyB bid.
Meanwhile, at the Courts of Justice, Rupert Murdoch was starting to make a few waves of his own. The 81-year-old spoke softly and sometimes slowly, with occasional long pauses - but also with flashes of humour and occasional anger
He insisted he had never sought any favours from any prime minister - on the contrary, he said, it was they who seemed to court him. Tony Blair had flown to his company conference on an island in Australia, David Cameron had flown to meet him on a yacht near an island in Greece.
He gave the impression he didn't know why they bothered, claiming it was a myth that he had great political influence.
Mr Murdoch said he took "particular pride that we've never pushed our commercial interests in our newspapers."
'Terrible' dressing down
He suggested the Sun, which occasionally switched its party allegiance, unlike most national newspapers, was probably "the only independent newspaper" - and said its editorials were the place to look if you wanted to know his political views.
But he agreed he had been angered by the famous headline - "It's the Sun wot won it!" - which claimed the paper had secured the 1992 election for the Tories, and confirmed reports that he had given its editor Kelvin MacKenzie "a terrible bollocking".
It suggested that the Murdoch newspapers really did have political power, something he was going out of his way to play down.
Mr Murdoch raised one of the biggest laughs when he described his frustration at the way prime ministers dealt with the BBC, saying he had not bothered to lobby David Cameron over the latest TV licence-fee deal.
Political hand-grenade
"I had been through that with previous prime ministers. They all hated the BBC and they all gave it whatever it wanted".
He saved his political hand-grenade for the final session of the day - lobbing it at the former Labour prime minister Gordon Brown. He claimed Mr Brown had telephoned him after the Sun had switched allegiance from Labour to the Tories in 2009, and had said to him, in a quiet voice: "Your company has declared war on my government and we have no alternative but to make war on your company".
Asked by counsel for the inquiry how Mr Brown might have "made war" on his company, he said he did not know, but added: "I did not think he was in a very balanced state of mind."
Mr Brown quickly issued a statement denying the story. He will get a chance to give his version of events to Lord Justice Leveson in the coming weeks, and so will the Culture Secretary Jeremy Hunt.
But Rupert Murdoch's evidence is not finished yet. When he returns, he is expected to be questioned about the phone-hacking scandal which could produce more fireworks.