Muppets to return in film sequel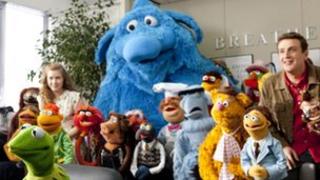 Disney have confirmed a sequel to last year's Muppet movie, without the film's star and writer, Jason Segel.
The studio confirmed the sequel at the CinemaCon convention in Las Vegas, as well as the return of director James Bobin and co-writer Nicholas Stoller.
The film took more than $150m worldwide and won an Oscar for best song.
Disney-owned Pixar also confirmed three new animated films, exploring themes as diverse as dinosaurs and the Mexican Day of the Dead festival.
Segel described the decision not to return for the Muppet sequel as "totally amicable".
"My goal was to bring The Muppets back and I did that leaving them in very good hands," Segel told reporters last month
"I did what I set out to do, and now I wanna pursue more human-related projects."
"I'm ready for a little puppet break."
Segel will next be seen in The Five Year Engagement, opposite Emily Blunt.
Pixar line-up
Dia de los Muertos is celebrated in Mexico, Brazil and Spain, as well as many Asian and African countries, around the same time as Hallowe'en.
"So excited to finally reveal my next movie at Pixar: a story set in the world of the Mexican holiday Dia de los Muertos," tweeted Toy Story 3's Lee Unkrich, who will direct the forthcoming film.
A further two films include The Good Dinosaur - looking at what might have happened if the dinosaurs had not been wiped out by an asteroid - and the previously announced Untitled Pixar Movie That Takes You Inside the Mind. They are due out in May 2014 and June 2015 respectively.
Pixar's latest film, Brave, is due to hit cinemas in June.
It follows a lacklustre response to Cars 2, which failed to garner an Oscar nomination in this year's best animation category - a field which the studio has traditionally dominated.