BBC announces daytime TV schedule shake-up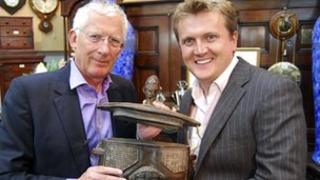 The BBC is shaking up its daytime schedule by calling time on long-running series.
In future, commissioned shows look set to have runs of no more than 15 episodes, with the exception of Doctors and "one big drama per quarter".
The new strategy is part of the Delivering Quality First initiative aimed at saving money.
Daytime controller Liam Keelan has also pledged there will be no more than two programmes of any genre shown each day.
Under plans announced previously, BBC Two daytime shows are due to be preominantly replaced by news and factual repeats Keelan said: "With the future focus on one channel, the aim is to retain as much variety within the day as possible, so it's important we mix it up where we can.
"That means no more than two quizzes a day, or two consumer shows, antiques or collectables, and property," he told industry publication Broadcast.
Keelan used last year's decision to pull the plug on Cash in the Attic - which will come off air in early 2013 - and To Buy or Not to Buy as an example of the new approach.
"The parts of the schedule that have been freed up by that - the 11am slot, for example - have had more factual and consumer-related programming, which you can't keep the same all year round," he said.
The new schedule will also comply with the BBC Trust's call to make more distinctive programming.
Keelan wants programme-makers to come up with a host of new ideas, like arts programme Show Me the Monet, which is returning for a second series this summer.