Get Into This Award celebrates Liverpool music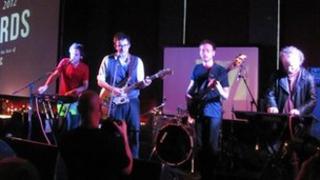 A new music award has been presented in Liverpool to highlight the city's thriving music scene and prove there is more to Liverpool than The Beatles.
The inaugural Get Into This Award, named after a music blog run by writer Peter Guy, went to the delicate and hypnotic four-piece band Loved Ones.
The award has been dubbed the "Scouse Mercury" after the Mercury Music Prize.
Guy has said the spirit of The Beatles "hovers over Liverpool like a mouldy Pot Noodle" and the city must move on.
"The stench is still sticking around," he said of the Pot Noodle comment before Friday's ceremony.
Fifty years after their formation, it is still The Beatles who are the most closely associated with Liverpool's musical identity in the eyes of the world.
The 12 nominees for the Get Into This Award ranged from rapper Bang On to fast-rising guitar pop group Outfit and experimentalists Ex-Easter Island Head, who make music by hitting guitars with percussion mallets.
Guy, who writes for the Liverpool Echo and Post, said he "absolutely adores" The Beatles but they have "lost all relevance" for the current crop of music-makers.
"We need to move forward and keep things going. That's what art's all about, it's about creativity, it's about things that are new," he said.
"Why would we want to feed off the magic that Lennon, McCartney, Ringo and George created all those years ago? We want to create something that's fresh and alive and find the next Beatles."
The city has been enjoying a musical renaissance for five years, centred around the gig venue and performance space The Kazimier, he said, adding: "The music scene, in my opinion, is second to none in the UK."
The award winners were chosen by a nine-strong panel including writers from The Guardian newspaper and NME, Vice and Waxxx magazines.
The Get Into This Award nominees:
Bang On
Ex-Easter Island Head
Forest Swords
Loved Ones
Miss Stylie
Mugstar
Outfit
Ninetails
Bill Ryder-Jones
Stealing Sheep
The Tea Street Band
Esco Williams
Find out about the nominees on the Get Into This blog .