Golden Globes producer prevails in TV rights trial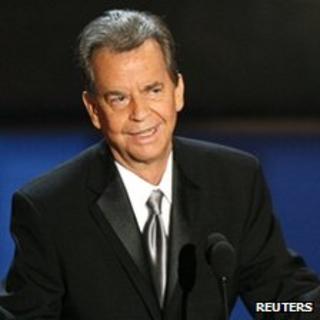 The production company behind the Golden Globes telecast had the right to negotiate a long-term deal with US broadcaster NBC, an LA judge has ruled.
Judge A Howard Matz said Dick Clark Productions (DCP) had the right to work on the show as long as NBC shows it.
The Hollywood Foreign Press Association (HFPA), which organises the event, had accused DCP of selling the broadcast rights without proper permission.
The judge's 89-page ruling comes two weeks after Dick Clark's death.
The veteran TV personality sold his stake in DCP in 2007. But the dispute focused on events that took place while he still owned the company.
"My only sadness is that Dick wasn't here to see the win," said Mark Shapiro, CEO of Dick Clark Productions. "It was his idea to do a long-term deal."
The Hollywood Foreign Press Association has yet to comment on the ruling and may appeal against it.
According to the HFPA, DCP did not have the right to negotiate a deal that would keep the Globes on NBC until 2018.
'Amateurish'
But Judge Matz felt differently, ruling that DCP did not need to receive approval for its broadcast deal directly from the HFPA.
The dispute centred on a 1993 agreement between the HFPA and DCP that, in the latter's view, gave it the right to work on the Globes telecast in perpetuity.
In his ruling the judge said DCP had "acted in a consistently business-like fashion", while the HFPA had been guilty of "often amateurish conduct".
The HFPA took legal action against DCP in November 2010. Yet this did not stop the two parties working together on the 2011 and 2012 ceremonies.
Held in January, the Globes - hosted since 2010 by Ricky Gervais - are seen as the traditional curtain-raiser of the Hollywood awards season.