Dancers urge action on eating disorders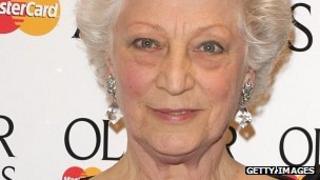 The director of the Royal Ballet has said that any dance company director who claims never to have worked with an anorexic performer is "lying".
Dame Monica Mason made the comments at Dance UK's conference on nutrition and eating disorders within the industry.
"Perhaps in the past we were more in denial. We are now in a situation where we can recognise it and really try to help these young people," she said.
Dame Monica is due to retire from her role at the Royal Ballet in July.
Speakers at the Nutrition and Disordered Eating Conference, which was attended by more than 100 delegates, included dance and medical experts, with former dancer Kenneth Tharpe chairing the proceedings.
The conference took place earlier this week, after dance professionals demanded a public forum for discussion.
Tharpe, now chief executive of contemporary dance centre The Place, urged greater transparency on the issue, opening the conference with the words: 'Let's talk about it'."
Dame Monica, who has been with the Royal Ballet for 54 years, backed his comments: "I think it is great that we are now talking about it more and more."
"Any director of a company who said they have never had an anorexic dancer would have to have been lying.
'Sausage machine'
"What we are looking for is a healthy, talented, gifted individual, and even in a company like the Royal Ballet the sizes and shapes of people vary enormously," said Dame Monica.
"I never wanted people to come out looking like they have been produced by a sausage machine."
David Bintley, director of Birmingham Royal Ballet, agreed, adding that he was not looking for a set physical "type" but would "run a mile away from somebody I suspect has an eating disorder" because they were difficult to solve.
David Nixon, artistic director of Northern Ballet added that his productions required "real, human shapes".
Delegates discussed how some dance companies promoted competition and egocentric behaviour. These "negative environments" were "closely linked to the propensity of eating disorders".
Medical experts stressed the need for dance organisations to identify staff to whom students could turn, and to familiarise themselves with support bodies that help people tackle eating disorders.
Following the conference, Dance UK launched the National Institute of Dance Medicine and Science (NIDMS), a joint initiative with Birmingham Royal Ballet, Trinity Laban, the Royal National Orthopaedic Hospital and the Universities of Wolverhampton and Birmingham.
It has also announced the opening of the first specialist dancers' health clinic at the Royal National Orthopaedic Hospital in London, which aims to give all top level dancers access to the comprehensive, dance-specific healthcare.