Glee star confirms show departure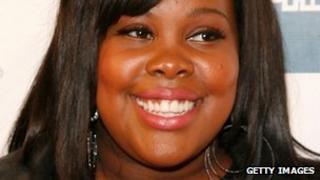 Glee actress Amber Riley has revealed she is leaving the hit US show at the end of the current series.
The 26-year-old, who plays Mercedes Jones on the musical comedy, tweeted : "That's a wrap on Amber Riley! Just closed a chapter in my life."
Riley is one of a number of characters due to graduate from the fictional McKinley High later this month.
However the show's creators hinted it did not necessarily mean the characters would leave the show.
The actress is the first of the main cast, who have been on the show for three series, to confirm their departure.
"I'm going to miss the whole Glee family, seeing them everyday!" Riley wrote.
"I have so many brothers and sisters now. But I am looking forward to a much needed and deserved summer vacation! School's Out Glee Kids! Let's play!"
Co-star Dianna Agron, who plays Quinn Fabray, also suggested her own time on the show was ending too.
She tweeted : "I don't know all that is to come, but I know what a day like this means. Four years of love, light and support.
To the cast, crew and creators and to all of you that have shown your love along the way. We just can't thank you enough."
A fourth series of the show is due to be broadcast next year.