Snow White and the Huntsman director uses his own blood in fairytale film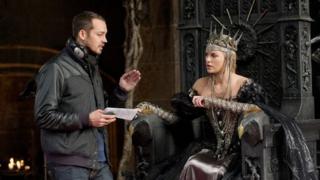 When the director of new fairytale blockbuster Snow White and the Huntsman thought the fake blood in his film looked too fake, he came up with an unusual solution.
He used his own blood.
"It's true," Rupert Sanders told the BBC, "but there's a lot more sweat and tears than there are drops of blood of mine in that film."
The new movie, starring Twilight's Kristen Stewart and The Avengers' Chris Hemsworth, is out in the UK on 30 May.
The actual scene comes at the start of the film when Snow White's mother pricks her finger and her blood falls on the snow.
"We were shooting the drops of blood at a very high frame rate and the fake blood just looked like raspberry jam," explained the first-time movie director.
"So I asked if there was any pig's blood and was told 'we don't use that any more' so I snuck round the corner and someone drew 50cc of my blood and I handed that to the prop guys.
"It was a real race because it was congealing under the lights, but we got it in the end and the blood looks like real blood."
Sanders' version of the Brothers Grimm fairytale reinvents Snow White as an action heroine who goes into battle against the wicked Queen Ravenna, played by Charlize Theron.
It has a darker tone than Tarsem Singh's Snow White film Mirror Mirror, out earlier this year, which starred Lily Collins, Julia Roberts and Armie Hammer.
Sanders is best known for his award-winning work as a director of commercials, including video game Halo 3, and has three Directors Guild of America award nominations for his work.