Hugh Laurie's House bows out on dramatic note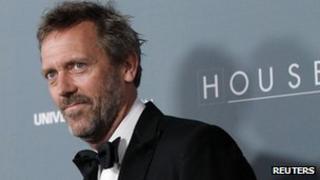 The final episode of award-winning medical drama House aired in the US on Monday, eight years after its TV debut.
The show starred Hugh Laurie as Gregory House, the brilliant but troubled doctor with an unconventional bedside manner.
The final episode featured a dramatic storyline centred on the friendship between House and colleague Dr James Wilson (Robert Sean Leonard).
Laurie said playing House had been "an unforgettable part of my life".
Monday's finale was preceded by a one-hour retrospective celebrating the show's 177 episodes, featuring tributes and scenes from the final cast party.
Laurie won two Golden Globes and two Screen Actors Guild awards for his role.
And the show has won the favourite TV drama prize at the People's Choice Awards for the past four years.
'Enigmatic creature'
But audiences have fallen from around 19 million in 2007 to 8.5 million this year.
In January 2010, Laurie entered the Guinness Book of World Records for being the most watched leading man on television for his role as the cantankerous doctor.
Frazier Moore, the Associated Press TV critic, said of the final episode: "For House, boring had always been life's least tolerable state. The finale served well as a reminder: House seldom was."
"This is a series that always loved the big gesture — and it went out with that love on full display," wrote Robert Bianco of USA Today.
The show's producers, including British star Laurie, announced in February that the show would be ending.
They said it was a "painful" decision but that the time had come to bring it to a close.
In a statement, Laurie and fellow producers David Shore and Katie Jacobs said: "We have always imagined House as an enigmatic creature; he should never be the last one to leave the party.
"How much better to disappear before the music stops, while there is still some promise and mystique in the air."
The final episode of House will be shown on Sky1 in the UK later this week.