Ben Fogle to attempt Atlantic swim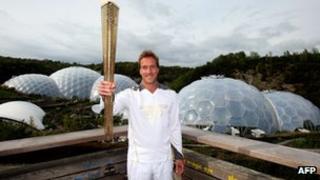 TV presenter Ben Fogle is to attempt to swim across the Atlantic in 100 days for charity next year.
Fogle, 38, will have to swim the equivalent of the English Channel every day - spending up to 12 hours in the water - to reach his target.
The 3,000 mile (4,800km) journey from the US to Cornwall has been completed only once before, organisers said.
"I am daunted by the magnitude of this challenge, but I have never been one to take the easy option," Fogle said.
Fogle is renowned for previous challenges, including rowing across the Atlantic with friend and Olympian James Cracknell.
He suffered frostbite to his nose following a race to the South Pole in 2009. And he completed a swim across San Francisco Bay from Alcatraz Island in 2011.
'Life-changing'
Fogle will aim to complete the Atlantic swim in 2013, accompanied by a support yacht, where he will eat and sleep.
He will be aided by several young homeless volunteers put forward by the charity Centrepoint, for which he will raise money.
Fogle, who rose to fame in BBC series Castaway in 2000, said: "You get out of life what you put in and the greatest achievements come from the biggest challenges."
Seyi Obakin, chief executive of Centrepoint, said: "Being part of Ben's team and entrusted with new responsibilities will be life-changing for the young people who join him.
"It will inspire them to face challenges of their own, including finding a job and moving on to independent living."
Fogle will also work with the World Wide Fund for Nature (WWF) and the Plastic Oceans Foundation to highlight vulnerable ecosystems and marine species.