Eddie Izzard halts marathon tribute to Nelson Mandela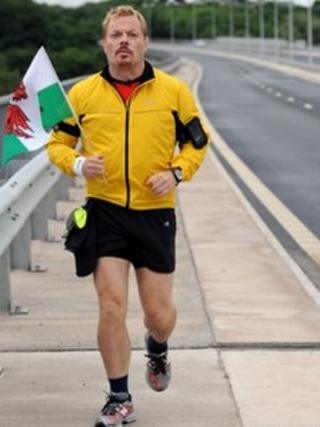 Comedian Eddie Izzard has been forced to put his latest running challenge, a tribute to Nelson Mandela, on hold.
He had hoped to complete 27 marathons in 27 consecutive days, in honour of the 27 years the former South African President spent in prison.
However Izzard has called a temporary halt to the challenge after completing just four marathons.
In a message on his Facebook page, the comedian blamed "unforeseen medical complications".
He said "severe terrain, humidity and altitude" were among a "multitude" of factors.
Izzard, 50, still hopes to complete the challenge, which is being filmed for a documentary to be broadcast this autumn.
'Not over'
"I wish to say that my attempt is not over and I will return to South Africa and run the 27 marathons and finish this story," he continued.
"I owe that to Nelson Mandela, who has inspired the world to struggle and succeed no matter what obstacles are thrown at us."
The route was intended to geographically retrace the 93-year-old's life in South Africa, with Izzard setting off in the Eastern Cape where Mandela was born.
All proceeds raised will be donated to the Nelson Mandela Foundation and other South African charities.
In 2009, the actor and comedian ran around the UK, effectively undertaking 43 marathons in 51 days, to raise money for Sport Relief.