Men in Black 3 beats Avengers at US box office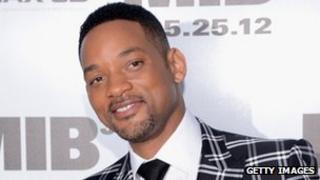 The Men in Black have triumphed in a box office battle with The Avengers.
Men In Black 3, the return of Will Smith's movie franchise, knocked the comic superheroes off the top of the North American box office chart.
The action movie made $55m (£35m) over the Memorial Day holiday weekend, according to studio estimates.
The Avengers slipped to second with $37m (£24m). But it has become only the fourth film to take more than $500m (£319m) in total in the US and Canada.
The Avengers has now earned $514m (£328m) - behind only Avatar, Titanic and The Dark Knight in the all-time North American rankings.
The Marvel movie spent three weeks at the top of the weekly chart, but has now been overtaken by the first Men In Black film for 10 years.
Men in Black 3 sees the return of Smith's Agent J and Tommy Lee Jones' Agent K as they battle a new alien enemy that travels four decades back in time to get rid of the younger Agent K - played by Josh Brolin.
Board game adaptation Battleship, which stars singer Rihanna, was at number three in its second week of release, taking $10.8m (£6.9m).
Sacha Baron Cohen's comedy The Dictator took $9.6m (£6.1m) to finish fourth in its second weekend on the chart.
Horror film Chernobyl Diaries debuted at number five with $8m (£5m).
Overall, domestic takings for the four-day Memorial Day weekend are likely to come in well behind last year's record of $276m (£175m).
Paul Dergarabedian, an analyst for box office tracker Hollywood.com , estimated that this year's four-day revenues would total around $200m (£127m).