Soldiers' play kicks off BBC Imagine season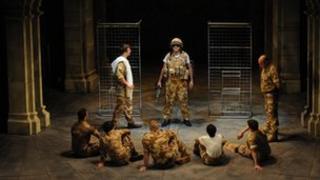 A documentary about a play starring British soldiers injured in Afghanistan and Iraq will kick off the new series of Imagine on BBC One this summer.
Theatre of War is based on The Two Worlds of Charlie F, which ran in London's West End earlier this year.
The story of the controversial making of Paul Simon's Graceland will also feature on the flagship arts strand.
Simon's work with township musicians in South Africa in 1985 broke the cultural boycott against apartheid.
Three new ballets inspired by the artist Titian will also be showcased.
Imagine... Dancing with Titian goes behind the scenes of a collaboration between the National Gallery and the Royal Ballet.
Three of Titian's mythological paintings of the goddess Diana will be shown together for the first time at the National Gallery as three new ballets they have inspired premiere at the Royal Opera House.
Designers for the production include Turner Prize winner Chris Ofili and the performances will include poetry from Seamus Heaney and Poet Laureate Carol Ann Duffy.
Some of the soldiers who took part in The Two Worlds of Charlie F were amputees, while another had a severe brain injury.
The soldiers were also involved in writing the play, while will be available to watch on free digital arts service The Space from 26 June.
Other programmes in the series include a documentary on the art of falsetto.