Royal Academy of Music director sentenced over fraud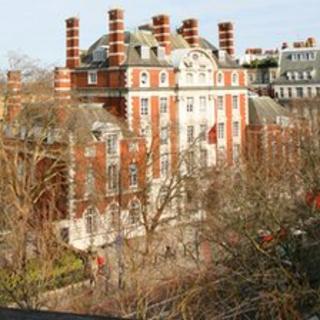 A former finance director at the Royal Academy of Music has been sentenced to 20 months in prison after defrauding the institution of £236,000.
Janet Whitehouse, 56, admitted to three counts of fraud, including faking paperwork to boost her pension fund.
She also submitted fake invoices for £104,000 for work she had invented.
The judge at Southwark Crown Court said Whitehouse had abused her position over four years to benefit herself and family members.
Prosecutor Antony Swift told the court Whitehouse had forged letters and invoices to take £100,000 in three lump sums for her pension, claiming it had been approved by the college chairman Lord Terence Burns.
To prevent her frauds being discovered, she had asked another member of staff at the institution to destroy her pension file. However the employee kept copies of documents so the institution could reconstruct the payments made.
The court also heard how Whitehouse had arranged for her son to live rent free at Royal Academy-owned accommodation, which had been valued in excess of £30,000.
"You abused your position to enrich yourself and benefit your family by three different means," Judge Deborah Taylor said.
"No doubt you worked hard for the benefit of the academy and it's never pleasant to sentence someone of your obvious quality and ability who has suffered such a fall from grace," she added.
The fraud was discovered in February 2011 when "internal financial control systems identified apparent financial irregularities," the academy said.
Whitehouse's defence lawyer Neil Saunders said she accepted it was a serious breach of trust and regretted bringing the name of the academy into disrepute.
He added following her resignation in March 2011, Whitehouse had repaid nearly £320,000 and no student had suffered as a result of the fraud.
The school, based in London's Marylebone Road, offers training for musicians, with former students including Sir Elton John, Annie Lennox and Lesley Garrett.
The Royal Academy of Music said it had no comment on the sentencing.