Jez Butterworth returns to Royal Court with new play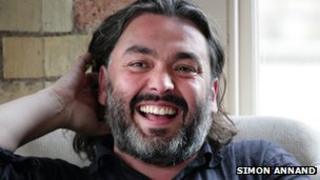 Playwright Jez Butterworth is returning to the Royal Court theatre in London for the first time since the success of his award-winning play, Jerusalem.
In an unusual step, there are no advance ticket sales for The River - which will run in the Court's small upstairs theatre from 18 October.
The play reunites Butterworth with Jerusalem director Ian Rickson and designer Ultz.
A Royal Court spokesperson said it anticipated a "huge demand" for seats.
All tickets will go on sale on the day of performance, with an allocation on sale online from 9am and an allocation available at the London venue's Sloane Square box office an hour later.
The spokesman said the play was being staged in the smaller 90-seat Jerwood Theatre Upstairs as it better suited the play's "intimate" feel.
Butterworth's The River is described as "a bewitching new story" that takes place around a remote cabin on the cliffs on a moonless night.
The playwright's Jerusalem, which premiered at the Royal Court's main downstairs theatre in 2009, went on to play two sell-out runs in the West End, and transferred to Broadway.
Mark Rylance's role as Johnny "Rooster" Byron won him best actor awards at the Tony Awards in 2011 and the Olivier Awards in 2010.
Rickson also directed Butterworth's previous shows The Winterling, The Night Heron, Mojo and Parlour Song. He was artistic director of the Royal Court from 1998 -2006.
Also part of the Royal Court's autumn season are plays by established Royal Court writers Caryl Churchill and Martin Crimp.
Churchill's play, Love and Information, previews from 6 September and Crimp's In the Republic of Happiness previews from 6 December.
"It's a privilege to welcome back some of the UK's most influential playwrights to the Royal Court in my penultimate season as artistic director," said the Court's Dominic Cooke.
"A new play by Caryl Churchill is a major cultural event. To have that joined by the latest work from Martin Crimp and Jez Butterworth in the same season is a rare and thrilling prospect."
The season also includes Lucy Kirkwood making her Royal Court debut with NSFW, directed by Simon Godwin in the Jerwood Theatre Downstairs.
Cooke described the play as "a witty and acerbic look at the representation of women in the media".