Prometheus stays top of the UK box office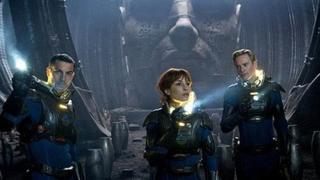 Ridley Scott's alien drama, Prometheus, has topped the UK and Ireland box office for a second week.
The film, starring Michael Fassbender, Noomi Rapace and Charlize Theron, took £3,140,000 over the weekend.
It held off competition from Men In Black 3 (£2,533,000) and Snow White and the Huntsman (£2,211,000), despite a 50% drop on last week's takings.
Horror film The Pack (£932,000) was the only new entry of the week to make a dent in the top five.
Ill Manors, the directorial debut from rapper Plan B - whose real name is Ben Drew - debuted at nine.
It took £256,000, including previews, but was screened in just 191 cinemas, compared with around 500 venues for the top three films.
The film was generally well-received by critics, although many said the tale of crime in London's East End made for "bleak" viewing.
Another of the weekend's new releases, Red Tails, got off to a slow start, despite being produced by Star Wars creator George Lucas.
The World War II drama starring Terrence Howard and Cuba Gooding Jnr took just £193,000.
However, Simon Pegg's new comedy A Fantastic Fear of Everything failed to make the top 15.
The film suffered some unfavourable reviews and opened at number 20 with takings of just £35,400.
Prometheus failed to top the US box office this week, crash-landing in second place behind animated sequel Madagascar 3: Europe's Most Wanted.