Mendes: Bond has 'strong similarities' with Shakespeare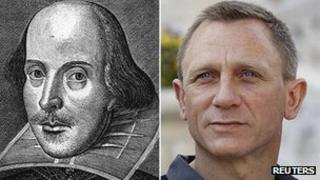 Shakespeare and James Bond have more in common than might first appear, claims Oscar-winning film-maker Sam Mendes.
"There are actually quite strong similarities," the American Beauty director told Radio 4's Front Row. "You have a kind of familiarity with it."
Mendes is currently editing Skyfall, the 23rd official James Bond film, ahead of its autumn release.
He is also the executive producer of a series of BBC films based on Shakespeare's history plays.
Because of his involvement with classical theatre, Mendes said it was "not an unusual feeling... to deal with characters [like Bond] that already exist".
"Where [Skyfall] differs is it's a totally new story," he went on. "We're not remaking Live and Let Die or The Spy Who Loved Me.
"You don't have that certainty that you have with Shakespeare, that there is a structure there that will hold you, a story that fundamentally works that has been tried and tested over many years."
Mendes is producing BBC dramatisations of Richard II, Henry IV Parts I and II and Henry V that will air from June as part of the Cultural Olympiad and the BBC's Shakespeare Unlocked season.
Earlier this week it was confirmed the 46-year-old would direct a new musical based on Roald Dahl's novel Charlie and the Chocolate Factory, to open in London's West End next year.