'Queen welcome' at new London theatre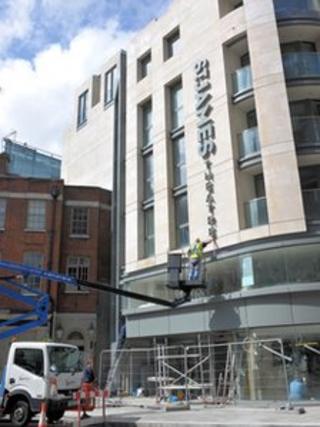 The Queen will be welcome to visit a new London theatre complex set to open close to Buckingham Palace later this year, according to its management team.
"We'll give her a reduced rate," joked creative director Robert Mackintosh to reporters as they viewed the St James Theatre in Victoria last week.
The venue, built on the Palace Street site of the former Westminster Theatre, will open to the public in August.
Bully Boy, a play by comedienne Sandi Toksvig, will launch its debut season.
First seen at the Nuffield Theatre in Southampton last year, the play stars Anthony Andrews as a major investigating allegations of misconduct within the British Army.
Additional shows announced include US musical Daddy Long Legs, a Christmas production of Cinderella and a revival of Timberlake Wertenbaker's 1988 play Our Country's Good.
John Caird will direct Daddy Long Legs, which will see Broadway actress Megan McGinnis reprising her praised performance as an orphan romanced by her anonymous benefactor.
Cinderella, a modern take on the classic fairy tale, was seen at the Tobacco Factory in Bristol last year.
Our Country's Good - directed by Max Stafford-Clark, its original director - comes to the St James in January following a three-week season in Bolton and a two-month UK tour.
Tickets for all the productions go on sale on 29 June.
'Hugely exciting'
Described as the first newly-built theatre complex in central London in 30 years, St James includes a 312-seat main house and a studio space capable of accommodating up to 150 people.
It has cost around £7 million to replace the Westminster Theatre, which was demolished after a fire in 2002 left it badly damaged.
Built as a chapel in 1766, the building was altered to be used as a cinema in 1924 and was converted into a theatre in 1931.
For many years it was owned by the Moral Re-Armament movement, which used it to present shows with a moral or spiritual message.
"Visiting the old theatre was a very dreary experience," said Mackintosh, who likened the venue to "a brick mausoleum with a very municipal feel".
The new eight-storey building - designed by Foster Wilson Architects - will have a facade of Portland Stone and a sculptured staircase leading to a "destination brasserie".
Toksvig - the host of Radio 4's The News Quiz - said it had been "hugely exciting" to see the theatre take shape.
The theatre will be fitted with multi-media broadcast facilities that will be used to show performances on the venue's own BSkyB satellite channel.