Jackson Pollock painting Mural to be restored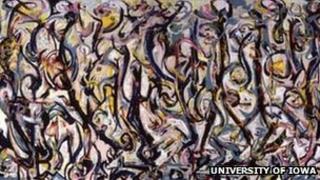 Jackson Pollock's seminal work of art, Mural, is to be shipped from Iowa to the Getty Center museum in Los Angeles for restoration work.
The oil on canvas painting, which is 20ft (6m) wide by 8ft (2m), represents a key turning point in the abstract expressionist's career.
It is hoped the 70-year-old painting can be returned to pristine condition.
Mural will then be exhibited in LA for three months before being returned to its owner, the University of Iowa.
Pollock, who died in 1956, is widely regarded as one of the most influential artists in American history.
"This painting is of phenomenal importance in the history of 20th century art," said President and CEO of the J Paul Getty Trust, James Cuno.
Pollock is also credited with inspiring the emergent Abstract Expressionists of the mid-20th century.
Mural marks the moment he began to move towards the abstract expressionism seen in his famous "drip" paintings, in which he poured paint directly onto the canvas.
It was created by Pollock as his first commission from legendary art collector Peggy Guggenheim, who gave it to the University of Iowa in 1951.
Filled with colourful, twisting animal-like forms, the artist described Mural as representing a stampede of animals from the American West.
Although it is dated 1943, it is believed Pollock created it in one burst of activity on New Year's Day 1944, after complaining for months that he was "blocked" and couldn't come up with an idea for Guggenheim.
He once wrote of the painting's size: "I've had to tear out the partition between the front and middle room to get the damned thing up. I have it stretched now. It looks pretty big, but exciting as all hell."
The huge work, which is valued at $140m (£90m) has started to sag over the years.
A team of scientists and experts will investigate the materials and techniques used to develop a treatment approach, before cleaning the painting.
It is estimated the work will take as long as 21 months, but it is not yet known whether the painting will be flown or driven to Los Angeles.
The Getty Museum regularly undertakes the conservation of key works of art from institutions around the world.
Last year there was talk of putting Mural up for auction to raise money for art scholarships at the University of Iowa, but that idea was dismissed.
Todd Taylor, a state representative, said the sale would have amounted to "cultural vandalism."