The Amazing Spider-Man returns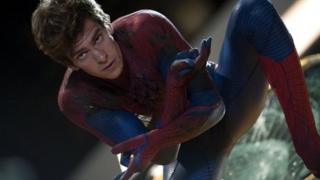 Comic book superhero Spider-Man last swung his way on to the big screen in 2007, with Tobey Maguire in the lead role for a third time.
Following another triumph at the box office, Maguire agreed to star in a fourth instalment with Sam Raimi once again in the director's chair.
However, the film stalled amid reports of disagreements over the script, resulting in both men leaving the project and a new version - re-telling the story from the start - was born.
So how could this well-known tale be given a new lease of life?
Peter Parker story
As director Marc Webb says, with 50 years' worth of comic books, there was not a shortage of material.
Enter a younger cast, with British actor Andrew Garfield as Peter Parker and Emma Stone as love interest Gwen Stacy, and a new villain, The Lizard - played by Rhys Ifans.
"What's great about Spider-Man is it's about character," says Webb.
"It's about a kid: he's not an alien, he's not a billionaire, he's just a kid who has trouble talking to girls and has to do chores.
"But when I thought about Peter Parker, I kept going back to the single event of his parents leaving him behind when he was six or seven years old - and how that would have had a huge emotional impact on a character.
"We've seen the origin of Spider-Man before, but we haven't seen the origin of Peter Parker and for me, this film is a story about a kid who goes looking for his father and finds himself."
He adds: "There's certain iconic things like Uncle Ben's death and the spider bite in the narrative that are very important to maintain - but the nuance and context are very different."
Stunts vs CGI
With only one film under his belt - the 2009 romantic comedy (500) Days of Summer - there has been a lot of pressure on Webb to replicate the box office success of the previous films.
But the director remains confident his film will satisfy even the most devoted Spider-Man fans.
This time around, the film was shot in 3D, which Webb thought was a natural fit to depict the hero flying through the air.
"3D can make you feel velocity and a sense of vertigo in a way 2D doesn't, so it really works well within the Spider-Man universe," he says.
Unlike the previous films, Webb wanted to use as much stunt work as possible to increase the thrill factor - only falling back on special effects where necessary.
To create a more realistic feel, the stunt crew built what Webb describes as "contraptions" to allow Garfield to swing, thereby moving the film away from computer-generated imagery.
Garfield's background as a gymnast also proved a distinct advantage, allowing their leading man to perform more stunts than would otherwise have been possible. The 28-year-old did his own trampoline, martial arts and parkour work in the movie.
Bladder control
Ironically, it was the actor's love for the comic book hero as a child that inspired him to take up gymnastics.
"I wanted to be a gymnast because I loved Spider-Man so much," says Garfield.
"I started gymnastics when I was four or five, as I was a rough-and-tumble kid that would climb stuff and jump around. I think my mum thought, 'he's pretty wild, let's let him break his neck in a safe environment' - so I felt more prepared to step into my hero's outfit."
But as the skin-tight outfit took 20 minutes to put on each day, "stepping into the hero's outfit" was no mean feat.
Consequently, Garfield wore it for long periods of time to avoid having to repeat the ordeal - which in itself caused some logistical problems.
"It was tough," he says. "It wasn't designed for quick access and I had to really know about my bladder and understand it in a way that I never had to before.
"I had to make friends with it and control it, and calm it down for long periods in the day."
The role is very different for the actor who, until now, has been known for his work in "serious drama" - winning a Bafta in 2007 for his turn in Boy A, and a clutch of other awards and nominations for his roles in 2010 films The Social Network and Never Let Me Go.
The release of the film also comes a month after Garfield finished a stint on Broadway opposite Philip Seymour Hoffman in a revival of Death of A Salesman - for which both were Tony nominated.
However, the star dismisses any suggestion that he's "sold out" to Hollywood by making a blockbuster superhero movie.
"I don't see it that way at all - these are our modern myths and fairytales," he says.
"Stan Lee created something about a hero's journey. It's full of hope, and love, and massive human themes about taking responsibility for your community.
"It's not about swinging through buildings - that's just the icing - it's about loving your fellow man."
The Amazing Spider-Man is released in the UK on 3 July.