Stone Roses: Fans fooled by ticket websites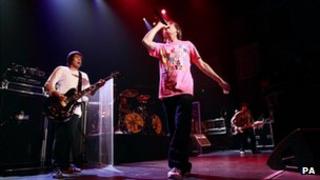 Hundreds of fans could miss The Stone Roses' reunion concerts in Manchester this weekend, after websites took their money, but failed to deliver tickets.
Some sites, including Aossatickets.com and theticketwebsite.net, have since disappeared.
"Everything just fell apart," said Tanya Harsent from Lincolnshire.
"You do try to be careful on the internet, but these guys were clever," she added. "They had people manning phones as well, for a while."
Tanya told BBC Radio 4's You And Yours programme that she had paid for two tickets on theticketwebsite.net.
"Two weeks before the event, I wasn't getting the tickets, so I started to panic a bit."
"I couldn't find a telephone number so I typed in theticketwebsite to get onto their webpage and the [message] came up saying, 'ooops, there's a technical fault."
Sara Smith, a Stone Roses fan from Shropshire, bought six tickets from the website for a total of £485.
"I paid on my Visa," she said, "and I only found out about eight weeks ago that I'd been scammed because I was chasing delivery of the tickets."
Complaints
You And Yours reporter Shari Vahl said theticketwebsite first appeared on 28 September last year, a few days before tickets for the Stone Roses show went on sale.
The site was the top paid-for result on Google's search pages for the concert during the peak period for ticket sales last October.
"They were apparently based in Portugal," said Vahl. "They took money from people's cards in euros. I've rung them on the numbers I could find and the phones are all dead."
A similar situation occurred with Aossatickets.com, who were thought to be based in Brighton.
"They had landline phones and a very impressive website," said Vahl. "This morning, the phones aren't being answered. Someone else now uses their office.
"Trading Standards officers in Brighton tell me they've had about 50 complaints in the last few days."
Another website, Tickets2allevents has also disappeared over the last few days.
The man behind that site, John Grainger, was also the boss of a tout site called Gigsport.com, which collapsed last year owing a third of a million pounds.
Caution warning
Several major tours have been targeted by ticket fraudsters in recent years, with fans of Take That, Bruce Springsteen, Rihanna and Michael Buble among those who found themselves out of pocket.
Vahl said customers should exercise caution when buying tickets for highly-anticipated shows.
"Fans should be very careful to stick to the official sites or primary tickets sellers like Ticketmaster, and See Tickets," she said.
"If you don't use those, research very very carefully before putting in your credit card details."
The three Stone Roses shows are their first major UK dates since the band dissolved in acrimony 16 years ago.
Despite releasing just two albums, the group were a major influence on British guitar bands in the 1990s, releasing a string of iconic singles such as Fools Gold, Sally Cinnamon and I Am The Resurrection.
Additional reporting by You and Yours reporter John Neal.