Children's bookshops 'buck UK High Street decline'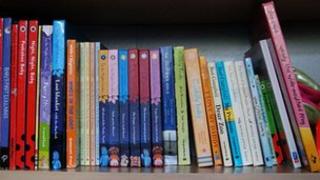 Children's bookshops are bucking a UK-wide decline, according to a new report by the Booksellers Association (BA).
Not a single children's bookshop closed in 2011, said the report, despite a steady drop in the number of independent stores, with 73 closing their doors for good.
The report added 36 new bookshops opened in the second half of the year.
The findings were revealed at the start of Independent Booksellers Week - which runs from 30 June until 7 July.
Children's book purchases rose slightly in 2011 by both volume and value, said the BA report, quoting research by Books And Consumer.
The increase was driven by the purchase of physical non-fiction titles.
During the period from July to December last year, 40 children's bookshops continued trading.
According to the BA's UK figures, by December 2011, it had 1,094 independent members - with the total membership coming in at 3,655.
In October, the BA revealed its membership had fallen by 20% since 2006.
Booksellers Association chief executive Tim Godfray said: "Though it was gratifying to see an increase in openings in the latter part of last year, and children's bookshops really holding their own, the competition from the internet and the arrival of e-books are putting pressures on high street and campus bookshops."
While printed book sales are at their lowest level for nine years, children's books have so far failed to make the move to digital.
"There are more apps and things for children, but parents are still buying the hard board books and illustrated books we all know and love," said Philip Jones deputy editor of trade publication The Bookseller.
"It's very hard to replicate that experience in digital format. I think most parents still feel there's a sort of safety in print, it's still the medium of choice," he added.
"Smart booksellers will take advantage of that and open for longer hours and encourage parents to come in."
Jones said publishers were also getting better at publishing unique, stand-alone books, and the kind of quirky titles that tend to do well in independent bookshops.
One example was Mark Forsyth's The Etymologicon: A Circular Stroll Through the Hidden Connections of the English Language, which became a huge hit after being published late last year.
Jones said children's publishers were also catching on.
"The big growth area has been sticker books, and you can't replicate that digitally for obvious reasons," he said.
"I think there's a whole growing genre in what we call interactive print books," continued Jones.
"You tend to think digital innovation means digital readers, but it can actually be improving what we can do with print books thanks to new technology."
About 300 shops are taking part in Independent Booksellers Week, now in its sixth year.
Taking a leaf out of the book of Record Store Day - which celebrates independent record shops - a range of limited edition "collectable" titles will be available from independent shops.