UK album sales fall as digital downloads grow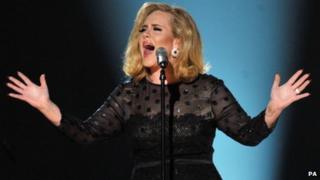 British album sales fell by nearly 14% in the first half of 2012, despite a rise in digital sales and the continued success of Adele's record 21.
Record industry body the British Phonographic Industry (BPI) said 43.6 million albums were sold, down from 50.5m during early 2011.
Digital sales have increased by 17.3% but have failed to close the gap.
Adele's record-breaking 21 is the biggest-selling album of 2012 so far, as it was in the first half of 2011.
Emeli Sande's debut album Our Version of Events and Lana Del Rey's Born to Die were in second and third place.
Earlier this year the BPI announced that the amount of money made by UK digital music had overtaken sales of physical formats such as CDs and records for the first time.
Its new figures show that in the singles market, where sales were up by 6% on last year, fans purchased 100% of 2012's Top 10 singles so far as digital downloads.
Somebody That I Used To Know by Gotye featuring Kimbra is the year's biggest single, with more than a million copies sold.
It is followed by Carly Rae Jepsen's Call Me Maybe and David Guetta's Titanium, featuring Sia.
"We've had another solid quarter of digital growth in sales volumes, both in albums and on singles," said BPI chief executive Geoff Taylor.
"Album unit sales are down quite significantly year-on-year," he continued.
"But it's important to remember that these unit sales figures do not take into account the growing importance of music streaming and subscription services."
Taylor said the second half of 2012 looks "very promising" thanks to a plethora of prominent music releases.
These include new records from Mumford and Sons, Robbie Williams, The Killers, The Vaccines, Muse and Plan B.