Stone Roses "atmosphere" for sale on eBay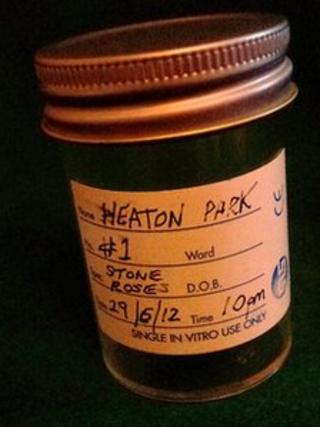 A Stone Roses fan is selling a container of "atmosphere" on eBay from the band's recent reunion gig in Manchester.
Bottled in what appears to be a urine sample container, bids have now reached more than £500.
The atmosphere was collected "at around 10pm on the opening night", according to the seller.
"Here is your chance to own your very own piece of Mancunian history... approx 10cc of awesome atmosphere."
The seller added that the atmosphere was bottled at Heaton Park on 29 June between the songs This Is The One and She Bangs The Drums.
He said he was unable to accept bids from people outside the UK because of the "totally electrified and awesome atmosphere in the container".
"It might cause security/health and safety issues being carried in a pressurised aircraft environment."
The seller says he will give some of the proceeds to a local music project for young people.
The opening night at Heaton Park was the first major UK gig by the Stone Roses' original line-up in 22 years.
The 220,000 tickets for the three Heaton Park gigs sold out in 68 minutes.
The band topped the bill at T in the Park in Scotland on Saturday.
The group, formed in Manchester in 1983, recorded just two albums before they dissolved in 1996.
Their 1989 self-titled debut is regarded as a seminal work, combining psychedelic pop and funky basslines.