BBC News editor Kevin Bakhurst departs for RTE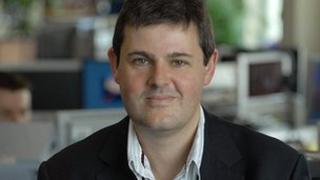 Kevin Bakhurst, editor of the BBC News Channel, is to leave the corporation to join Ireland's RTE network.
Mr Bakhurst, who has been controller of the news channel since 2005, will take over as as managing director of news and current affairs.
He will also sit on RTE's executive board following his move in September, after the Olympics.
Mr Bakhurst said his new role was "an amazing opportunity to lead such a formidable team".
He added it was "one of the very few jobs that I would have considered leaving BBC News to do".
Prior to his current role, Mr Bakhurst was the editor of the BBC Ten O'Clock News, winning several awards for its coverage of events including the Madrid and 7 July London bombings.
Helen Boaden, director of BBC News, said Mr Bakhurst's departure would be "a huge loss".
"His professionalism, his excellent judgment and his enthusiasm will be missed by all who've had the privilege of working with him.
"Under Kevin's leadership the News Channel has gone from strength to strength, cementing its reputation at the heart of the BBC's television news."
Announcing the appointment, RTE director general Noel Curran, said the position "attracted an exceptionally strong field of national and international candidates".
He added Mr Bakhurst had "huge and varied experience, a proven track record and key leadership skills".