Danny La Rue's life set for big screen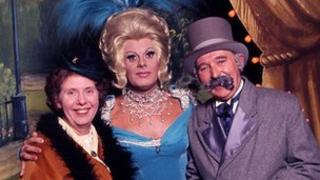 The life of variety show entertainer Danny La Rue is to be dramatised in a new film.
The BFI-funded screenplay has been written by Martyn Hesford, who created the BBC Four biopic Fantabulosa, about Carry On actor Kenneth Williams.
It will examine La Rue's "complex web of relationships" with his manager and partner Jack Hanson and close companion and costume designer Annie Galbraith.
Renowned as a female impersonator, La Rue died of cancer in 2009, aged 81.
Born Daniel Patrick Carroll, the performer was once described by Bob Hope as "the most glamorous woman in the world".
He was hailed as a ground-breaking star as he took his drag act into the mainstream and was the first female impersonator to perform for the Queen at the Royal Variety Performance.
"Danny was a ground-breaking entertainer and a vital part of contemporary British popular history, which until now has been overlooked," executive producer for Leopardrama Joey Attawia said.
"He had a huge cultural and social impact in making the unacceptable acceptable and blazed the trail for the likes of David Bowie and Boy George.
"He is an important figure who broke the mould and we're thrilled to have signed agreements with Annie Galbraith and other key intimates of Danny to bring this funny, moving and complex story to life."
La Rue made his name as a cabaret star before opening his own nightclub in 1964.
He went on to star in a string of hit West End shows and was a regular on TV shows such as the BBC's The Good Old Days.