Funk Brothers bass player Bob Babbit dies aged 74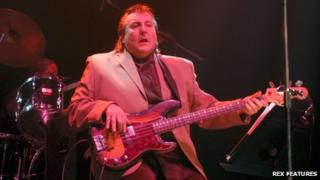 Motown bass player Bob Babbit, who appeared on tracks by Stevie Wonder and Marvin Gaye, has died aged 74.
One of the last surviving members of Motown's house band, the Funk Brothers, he died of complications from brain cancer in Nashville, Tennessee.
Manager David Spero confirmed the news in a statement from Universal Music.
Babbit featured on hit records such as Tears of a Clown by Smokey Robinson and the Miracles and Wonder's Signed, Sealed, Delivered.
He was well known for decades among musicians, and laid down bass lines on Gaye's songs Mercy Mercy Me and Inner City Blues, along with Gladys Knight's Midnight Train to Georgia.
He also played on tracks by The Temptations, Gloria Gaynor and The Jackson Five.
Former Motown engineer Ed Wolfrum told the Detroit Free Press: "Bob was a teddy bear of a guy, and he was an extraordinary musician - a player's player."
After leaving Motown, Babbit went on to record with artists as diverse as Bette Midler, Frank Sinatra, Bonnie Raitt, Elton John and Barry Manilow.
Born Robert Kreinar in Pittsburgh, Pennsylvania, Babbit became part of Stevie Wonder's touring band in 1966 after freelancing around Detroit, before joining the Funk Brothers.
He gained wider recognition after featuring prominently in the 2002 film about the band, called Standing in the Shadows of Motown.
Writer and producer Allan Slutsky told The Detroit News : "He was one of the last of the breed of journeymen bass players who were total pros, could go in and crank out a hit, go to the next session and crank out another one."
Babbitt is survived by his wife, Ann Kreinar, and their children, Carolyn, Joseph and Karen.
He was diagnosed last year with an inoperable brain tumour.
The Motown Museum posted news of his death on Twitter, saying: "Our thoughts are with his loved ones today."
Babbitt featured on one of Motown's all-time biggest selling albums, Marvin Gaye's What's Goin' On, and amassed 25 gold and platinum records.
In 2004 he was presented with a Grammy for lifetime achievement after playing on more than 200 Top 40 hits.
In 2010, he teamed up with Phil Collins to play on his covers album Going Back.