Gareth Malone to make US version of The Choir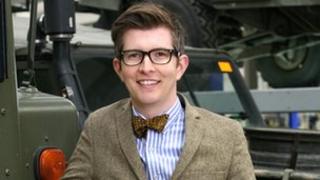 Choirmaster Gareth Malone, is to take his skills to America for a US version of hit reality series The Choir.
USA Network has commissioned 10 episodes of the BBC show, which are due to air in February 2013.
As with the BBC Two series, The Choir US will see Malone develop the skills of 10 choirs across America.
The British version of the series brought together the Military Wives Choir, who scored a Christmas number one with their song, Wherever You Are.
For the US incarnation, Malone will travel across America, attempting to teach choral music to people with little singing experience.
Production company Twenty Twenty said the show was ripe for a transatlantic transfer because it "delivers a big emotional punch".
"Gareth is the latest in a long line of Brits who the Americans have taken to their hearts," said CEO Time Carter. "It's time for him to become a household name in the US."
The Choir has been a big success for the BBC since it first aired in 2006, running for four series, and picking up a Bafta in 2007.
In the most recent series, Malone was invited to the RMB Chivenor military base in north Devon, where the troops were about to deploy for a six-month tour of duty in Afghanistan.
While the troops were away, Gareth started a choir with the wives and girlfriends who were left behind.
Wherever You Are was compiled from excerpts of love letters and poems written to their partners. For the climax of the show, the group performed it at the Royal Albert Hall in the presence of The Queen.
Released a month later, it sold 556,000 copies in its first week, holding X Factor winners Little Mix off the number one slot.