Modern Family cast sue over salary dispute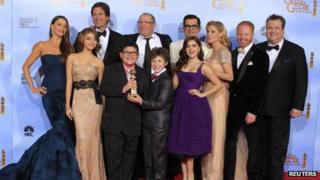 Five stars of hit US TV comedy Modern Family have filed legal papers to have their contracts declared void in a dispute over pay.
Colombian actress Sofia Vergara, Ty Burrell, Julie Bowen, Jesse Tyler Ferguson and Eric Stonestreet could then negotiate higher salaries.
They have asked a judge to rule the contracts illegal, as they prohibit the actors from other work.
Ed O'Neill, who plays Jay Pritchett, is not involved in the complaint.
He was already well-known to American audiences as the star of Married...with Children when he joined the show, so started off with a better contract.
The award-winning comedy about a dysfunctional family airs on Sky1 in the UK and ABC in the US.
"Since its debut on ABC in the fall of 2009, Modern Family has been one of the most successful shows on television," said court papers filed by the five actors.
They continued: "Modern Family has been a breakout critical and financial success. That success, however, has been built upon a collection of illegal contracts."
The stars said the contracts with 20th Century Fox Television bind them to stay on the show from February 2009 till 30 June 2016, violating Californian law prohibiting contracts for personal services that last longer than seven years.
The five actors did not show up for the first script readings of the show's fourth season on Tuesday, according to Variety.
The industry paper reported that the actors each earn between $60,000-$65,000 (£38,650-£41,860) per episode, while O'Neill gets $100,000 (£64,400).
During negotiations before shooting the fourth season, it is thought the studio offered them $150,000 (£96,600) per episode, increasing during subsequent seasons.
However, the cast is asking for more according to the Hollywood Reporter, including more than $300,000 (£193,000) an episode if the show continues past an eighth season.
Modern Family has won the Emmy Award for outstanding comedy series for the past two years and was recently nominated for another 14 Emmys, the most for any sitcom.
Several of the stars, including Burrell, Bowen and Stonestreet have won individual Emmys for their work on the show.
It features Stonestreet and Ferguson as a gay couple who adopt a Vietnamese daughter, while Burrell plays the naive husband of Bowen's obsessive stay-at-home wife and mother.
Vergara, who is the highest paid Hispanic actress in Hollywood according to Forbes magazine, plays the beautiful and much younger wife of O'Neill.
Legal papers also stated that the contracts cap the pay rises the actors can receive for each additional season of the show, at four or five percent.
Ferguson, Stonestreet, Bowen and Burrell are also required to perform numerous unpaid publicity obligations.
A spokeswoman for 20th Century Fox said the studio had no comment on the case.