Kevin Costner sues Robin Hood studio over profits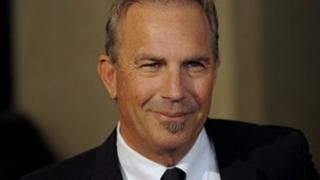 Kevin Costner is suing the producers of Robin Hood: Prince of Thieves for allegedly cutting him out of his share of the film's profits since 2010.
The 1991 movie was a box-office hit, grossing $25m (£16m) in its opening weekend.
In court papers filed in the US on Tuesday, Costner alleges that Morgan Creek Productions have "concealed" payments over the last two years.
The 57-year-old actor is seeking unspecified damages from the company.
According to Costner's legal papers, Robin Hood: Prince of Thieves has brought in more than $390m (£252m) at the worldwide box office and has made "tens of millions more" from home video, and repeated showings on television around the world.
The legal papers, seen by Deadline Hollywood , include four actions against the studio including breach of contract, fraud, breach of implied covenant or good faith dealing, and unjust dealing.
Costner's legal team claim that when the actor agreed to play Robin Hood, he was "promised" a share in the film's profits.
However, they allege that when the time came to share the money, they "delayed, obfuscated, concealed and reneged".
"Morgan Creek was less than forthcoming," the papers state.
Costner also claims that the company under-reported home video sales by 90% and violated the deal by assigning the distribution rights to an international subsidiary without his knowledge in 2006.
According to the Hollywood Reporter, the chief executive of Morgan Creek, James Robinson, described the dispute as minor and insignificant.
"Why is it, after 22 years, Mr Costner finds fault with our accounting procedures or for that matter our way of doing business?"
"We have paid him over $40m (£26m). I think we've been very nice to him. I wonder how much money he has made from other films where he is participant. We've been very straight with him."
Costner has won two Academy Awards, two Golden Globe Awards and has been nominated for three BAFTA Awards.
Most recently, he appeared in a three-part miniseries, Hatfields and McCoys, which was broadcast on the History Channel in May pulling in a record-breaking 13.9 million viewers.