Frances de la Tour set for new Alan Bennett play People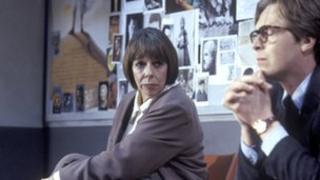 History Boys star Frances de la Tour has been cast in the lead role of Alan Bennett's new play, People.
The three-times Olivier award-winner played teacher Mrs Lintott in Bennett's smash hit play and film adaptation The History Boys.
She also starred as Madame Maxine in the Harry Potter films.
De la Tour will be joined by Nicholas le Prevost, the acclaimed stage actor who has also appeared in numerous TV series' including Cranford.
Other confirmed cast members are Selina Cadell, Linda Bassett and Peter Egan.
No other details about the play will be released ahead of the first night.
The National Theatre's artistic director Nicholas Hytner will direct Bennett's first play since The Habit of Art in 2010, which also starred de la Tour.
The Habit of Art was based on a fictional meeting between composer Benjamin Britten and poet WH Auden.
De la Tour, 68, was with the Royal Shakespeare Company for six years but is still best known to TV audiences as Miss Ruth Jones in the British sitcom Rising Damp, starring the late Leonard Rossiter.
She also appeared in Tim Burton's Alice in Wonderland and Martin Scorsese's Hugo.
People will debut at the National in London in October.