BBC digital stations 1Xtra and Radio 4 Extra set record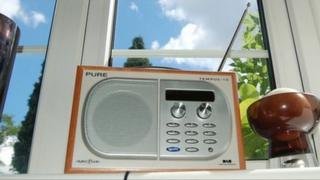 BBC digital stations 1Xtra and Radio 4 Extra have recorded their highest-ever listening figures in the latest Rajar report.
The new data shows digital radio now accounts for nearly a third of all listening.
Radio 4 Extra is still the number one digital station with 1.6 million listeners while urban music station 1Xtra attracted 1.13 million.
Digital radio now reaches more than 24.2 million weekly listeners.
Moyles vs Evans
Radio 2's The Chris Evans Breakfast Show is still the most popular choice for early morning listeners - regardless of how they listen. His audience increased year-on-year from 8.67 million to 8.95 million listeners a week.
However listeners were down from last quarter's near record of 9.23 million.
The station's weekly audience also increased from the same time last year, to 14.46 million from 13.97m, although listeners had dropped from last quarter's Rajar results of 14.56m.
Radio 1 suffered a drop in listeners to 11.27 million, compared with 11.14m last quarter and 11.69m last year.
Figures for Chris Moyles' breakfast show also dropped slightly to 6.93 million, down from 7.10m last quarter.
Moyles announced last month he was stepping down from the show after more than eight-and-a-half years fronting the flagship show, to be replaced by Nick Grimshaw. His final period at the helm will be covered by the next set of Rajar figures.
Radio 4's breakfast news show The Today programme also increased slightly on last quarter to 6.76 million listeners, although it fell behind the record it set this time last year of 7.18m.
10.52 million tuned into Radio 4 each week, which is up from last quarter but again down on the station's record 10.85m last year.
BBC Radio 5 live recorded a combined reach of 6.36 million listeners with sister station 5 live sports extra, down from 6.55m last quarter and 6.68m last year.
After posting record listening figures of 1.45 million listeners in the last quarter, digital station 6 Music was down slightly at 1.38 million.
Fellow digital station BBC Asian Network, which was also threatened with closure in 2010, increased its listeners to a record weekly reach of 547,000.
"These figures represent a strong performance across our portfolio and an industry in robust health," said Tim Davie, Director BBC Audio & Music.
He added: "Last year we laid out a clear strategy for our digital stations, so it is great to see our digital-only networks breaking records and all four attracting more than a million listeners every week."
Figures for BBC Local Radio in England show a reduction at 6.8 million, down by 408,000 compared to last year's 7.2 million.
The BBC's Controller of English Regions David Holdsworth called the figures "disappointing" but said they came after several quarters of "significant growth".
Berry increases listeners
In London, Capital FM was the biggest commercial radio station, with 2.1 million tuning in each week.
The station's breakfast show, now hosted by Dave Berry and Lisa Snowdon, remained the capital's favourite commercial breakfast show, beating Radio 1's Chris Moyles.
Its audience of 1.16 million was up 13,000 on the same period last year, when it was under the guidance of Johnny Vaughan.
The station overall had an audience of 2 million, ahead of pop music rivals Magic (1.9 million) and Heart (1.8 million).
Global Radio's Director of Broadcasting Richard Park called the figures "very pleasing indeed".
Classic FM, which turns 20 this year, also saw an increase in listeners, with figures at nearly 5.5 million across the country.
The data from Rajar also showed that the number of people listening to the radio on their mobile phone had increased by 24% year on year.