Lichtenstein painting resurfaces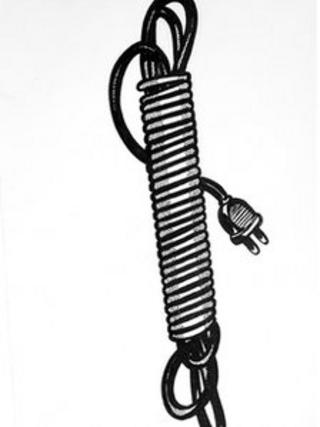 A painting by the late American pop artist Roy Lichtenstein has been found in a New York warehouse after 40 years.
Electric Cord disappeared from the Leo Castelli gallery in Manhattan in 1970 after being sent out to be cleaned.
Lawyers for Barbara Castelli, who inherited the gallery after her husband's death in 1999, say the painting is worth $4 (£2.57m).
A judge has issued a temporary restraining order barring the artwork from being removed from the warehouse.
Electric Cord was created in 1961 and depicts a tightly coiled cord in black and white on canvas.
The art dealer Leo Castelli bought it in the 1960s for $750 but it disappeared in 1970 after the Castelli gallery sent it out for cleaning.
In 2007, Mr Castelli's widow listed the painting with a registry of missing and stolen artwork.
Court papers say it re-emerged last week when she was notified by the Roy Lichtenstein Foundation that someone was trying to sell it.
The gallery owner, James Goodman, contacted the organisation looking for help authenticating the artwork, which was sitting in a storage facility on Manhattan's Upper East Side.
Court records show the painting had been shipped from a gallery in Bogota, Colombia, where it had been on display.
The documents state that Mrs Castelli is "deeply concerned" the painting may disappear again.
On Tuesday a judge signed an order barring the Manhattan warehouse where it was found from selling or moving the painting until a court hearing next week.
Lichtenstein, who died in 1999 aged 73, was an American pop artist who became a leading figure in the new art movement.
His work was heavily influenced by both popular advertising and the comic book style.
During the 1960s, his paintings were exhibited at the Leo Castelli Gallery in New York City along with Andy Warhol, Jasper Johns and James Rosenquist.
In May, 2012, his work, Sleeping Girl sold at the auction house Sotheby's for $44.8m (£28.8m).