Poet Laureate Carol Ann Duffy's ballet to tour UK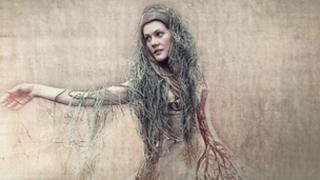 A ballet based on the fairy tale Rapunzel, written by Poet Laureate Carol Ann Duffy, is to tour the UK after premiering in Durham in October.
Choreographed by Liv Lorent, it will be Duffy's first dance collaboration.
The first of a series of commissions by Sadler's Wells, the production will travel to Hull and Newcastle before moving to London in March.
Actress Lesley Sharp will be the narrator, alongside a cast of young children and professional dancers.
The composer is Murray Gold, whose credits include Shameless and Doctor Who, while the costume designer is Michele Clapton, who has worked on the TV series Game of Thrones.
"Most of us remember Rapunzel's hair and the tower, but we're a bit hazy on the rest of the story," said Lorent. "It has been told again and again.
"But we're telling an older, slightly darker version, more akin to its Grimm tale origins."
The show has been in part funded by a £600,000 grant given to Sadler's Wells from The Monument Trust to commission new works over the next three years.
Duffy, who became the first female Poet Laureate when she was appointed in 2009, has written for the stage before but has never written a contemporary dance show.
"Fairy tales are both strange and familiar, frightening and reassuring, and provide a map of childhood which we can still use as adults to remember who we are," she said.
"Their re-telling and reinterpretation is part of the lifeblood of literature."