The xx team up with BBC Philharmonic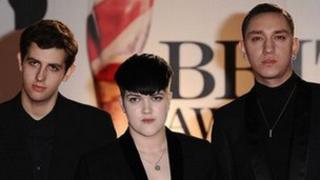 Indie acts The xx and Richard Hawley are to perform with the BBC Philharmonic as part of a special concert series this autumn.
The xx, who won the Mercury Prize in 2010, will play orchestral arrangements of songs from their first two albums, while guitarist Hawley will perform with an orchestra for the first time.
Both gigs are part of the second BBC Philharmonic Presents... festival.
Other shows will feature the music of Miles Davis and the James Bond films.
All of the concerts are free, and will be held in venues across the north of England, including the BBC Philharmonic studio at the corporation's new MediaCityUK complex in Salford.
The festival aims to repeat the success of last year's concert series, which saw the Philharmonic perform a "dubstep symphony" with dance act Nero.
Broadcast on Radio 1, the 18-minute work saw the 90-piece orchestra accompanied by dark beats and synth lines, courtesy of two producers with a drum machine and a laptop.
Among the audience were pop group The Pet Shop Boys and dubstep artists Chase and Status.
This year's show by The xx will be performed at the Spa Bridlington and broadcast on Radio 1. It will feature material arranged with composer Alex Baranowski, who also worked on the National Theatre's productions Hamlet and Frankenstein.
He said the new work, to be performed on 19 September, would be "a mixture of arrangements of songs" from The xx's first two albums, "along with some new orchestral material".
Simon Mayo and Mark Kermode will host the evening of songs from James Bond films, posing the question "what is the most popular James Bond theme tune?".
Singer Ren Harvieu will be on hand to perform some of the classics - which range from Wings' Live And Let Die to Sheryl Crow's Tomorrow Never Dies.
The show will be broadcast live on Radio 5 live as part of Mayo and Kermode's popular film review show on 14 September.
Full details of the concert series can be found on the BBC Philharmonic page, while tickets will be distributed via public ballot, via the BBC tickets website.