Man on Wire director Marsh steps into drama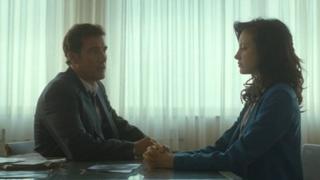 British director James Marsh has won acclaim with such documentaries as Project Nim and the Oscar-winning Man on Wire. Now he has turned his attention to the Troubles in Northern Ireland - but this time, as a feature film.
Shadow Dancer, starring Clive Owen and Andrea Riseborough, is a thriller set in the early 1990s.
Riseborough's character, Collette McVeigh, is a Republican single mother living in Belfast with her hardliner IRA brothers.
When she is arrested over an aborted bomb plot in London, she is given a choice by a MI5 officer played by Clive Owen: go to prison, and miss seeing her son grow up; or go home and inform on her family.
It was originally a novel written by ITN correspondent Tom Bradby when he was based in Northern Ireland during the conflict.
It was, according to Bradby, a way of "writing down the stories we couldn't put on the TV news every night".
Yet two years ago, when his adapted screenplay fell into Marsh's hands, the director admits his heart was heavy.
"It was about Ireland and the Troubles and we are all glad to have got beyond that, so I was sceptical," he says.
"But when I started reading it I realised there was a great premise in the story.
"With the time that has passed since the original story was written, the perspective we have is useful.
"There's no ongoing active conflict to worry about, and the early 1990s was a time when the majority were yearning for peace.
"And there's an international dimension to the story that's dramatic. There are extraordinary tales of deceit and betrayal from the time of the Troubles, and they remind me of some of the Cold War spy stories we have.
"So was I reluctant to direct it? Yes and no. I thought: 'Do we really need another film about Northern Ireland?'
"In the end the script convinced me as I was sure I could do something interesting with it. It's about a mother's predicament, so it has a very strong female perspective, and that already makes it different."
At this stage the screenplay still had a strong political direction. Marsh, however, wanted to focus on the thriller aspect of the story and to make it "more of a universal story with local colour".
"We can all understand what it is like to betray our family and betray our own political conviction," says Marsh.
"The fact it is set in Northern Ireland at a certain time is a circumstance that allow these things to happen, but it's not really about politics."
The change in focus of the script made it easier to attract funding, with both BBC Films and what was then the UK Film Council coming on board.
Shadow Dancer ended up being filmed in Dublin, rather than Belfast. According to Marsh, this was down to financial considerations rather than political sensibilities.
"Whenever things don't happen in films, it's always to do with money," says Marsh. "Sadly, we couldn't come to an agreement with the Northern Ireland Film Commission to make it in Belfast.
"However, I think it worked out in Dublin. We found a nice, monotone, grey-looking estate in Dublin to film in, and we weren't run out of town for the subject matter.
"We actually showed it in Belfast recently - and they didn't run us out of town either. In fact, the only question they asked was: 'Why didn't you make it here?'
"At the end of the day though, the border is irrelevant to me. Shadow Dancer is an Irish co-production and that's what's important."
Marsh has worked outside the documentary genre before, most notably in directing 1980 Channel 4 drama Red Riding, as well as 2005 film The King.
But Shadow Dancer marked his return to dramatic narrative, following his success with Man on Wire and Project Nim. Was it hard to make the switch?
"I wasn't overly enamoured with trying to make Shadow Dancer as real as possible, but of course we did try to make the backdrop authentic and to ground the fiction in reality," says Marsh.
"For me, the main difference was the freedom of making pure film - moving the cameras in different ways to documentary-making.
"In terms of the difference of working with actors instead of interviewees, I've always thought with actors, 'just cast the ones you want and then let them work'.
"You create the same circumstances for both actors and interviewees. You make things comfortable and you create a trust between you so the story can come out.
Overall, Marsh says he had to suspend a documentary-maker's quest for truth and accept that in the story he was telling there were many shades of grey.
"You look for the things you can be certain of, but I can't be certain with politics. That's why I turned to the human dynamics, to family and psychology.
"For generations, people have been trapped in this conflict, and that collects stories. Shadow Dancer doesn't go into who is right, or who has morality on their side.
"It is a microcosm, and we aren't attempting to deal with a bigger picture."
Shadow Dancer is out now in the UK and Ireland.