Museums Sheffield: After the cuts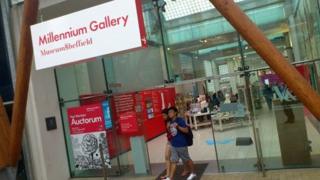 When the organisation that runs Sheffield's main galleries and museums lost out on £1.4m of annual Arts Council funding earlier this year, it warned of "devastating" consequences. Can a big city's cultural institutions cope with being cut to the bone?
Kim Streets remembers the bad old days. The new chief executive of Museums Sheffield joined the organisation as a curator of social history during the last recession in the early 1990s.
"I remember having to go to the then-director to ask for permission to get a colour laser copy for £1," she says. "It was tough times."
Back in the '90s, the city's museums and galleries were hit hard as the city council was forced to slash its budget.
"Our service clung on through that period, and we did some very exciting things with not very much," Streets recalls.
Now the organisation is going through another tough time, with its budget down 43% in the last two years.
Its annual grant from the city council is down 15% since last year to £2m, and the £800,000 a year it received from the Museums, Libraries and Archives Council (MLA) has now ended.
When the government abolished the MLA and transferred its grant-giving powers to the Arts Council, Museums Sheffield applied for £1.4m a year but was turned down.
Regional museums across England applied for a total of £117m from the Arts Council - almost double the £60m available.
Referring to the Sheffield bid, the Arts Council said the "museums offer in Yorkshire is particularly strong" - meaning "we couldn't fund them all".
Derby, Nottingham and Leicester were among the other cities to lose out. But Sheffield kicked up the biggest stink, warning that the quality of its service would "decline significantly".
Since then it has received short-term transitional funds from the Arts Council and city council and has also applied for another, lesser strand of regular Arts Council funding.
This year 38 of the 108 jobs are being lost - including that of chief executive Nick Dodd, who was replaced by Streets.
In recent years staff have taken pay cuts as debts built up. Despite the daunting circumstances, Streets is positive.
"There's a feel-good factor about arts and museums and collections," she says. "It's that passion we want to be sharing and that carried us through that period of not having a great deal [in the early '90s].
"That's what will carry us through this period as well - having a strong sense of purpose and a strong sense of arts and museums being food for the soul.
"That's what they are and that will drive us through it."
So what will the cuts mean for visitors?
The organisation, which runs the Graves art gallery, the Millennium Gallery and the Weston Park museum, will host fewer expensive touring exhibitions and instead make more use of works that are usually hidden in the vaults.
That will be welcomed by some. On the other side of the Peak District, the Manchester Evening News ran a front page story last month about the "revelation" that Manchester's galleries owned thousands of art treasures that had been "locked away in storage for years".
"We want to make sure we can do the best we can with what we have," Streets says.
One element of the Manchester story concerned the question of selling some of those dusty artworks. In Sheffield, as in Manchester, that is not on the agenda.
One idea that is being considered, though, is introducing entry fees.
"I don't think we should be putting admission charges on our sites," Streets says. "Politically, I believe that people should have free access to what are their collections."
Reluctantly, though, she adds: "I do think we should just look at it and analyse the financial implications.
"At the moment we need to be finding ways to sustain the service in the longer term in this economic climate, and admission charges is an obvious thing to look at."
Elsewhere, events will be cut and the education team is being chopped from 23 people to three. The phrase "quality over quantity" keeps cropping up in Streets' strategy.
The Graves Gallery, which houses the city's visual arts collection, had been under threat. Its closure has now been ruled out, but its opening times have reduced to four days a week.
Strangely, visitor numbers have gone up since the opening hours were cut - something Streets partly puts down to the allure of a current visiting exhibition of Andy Warhol self-portraits.
So if the passionate staff can work wonders, and they can make the most of their collections, and visitor numbers have held up, does the organisation really need a higher level of funding after all?
Streets' answer, unsurprisingly, is yes. The relatively generous amounts available during the heady days of the late 1990s and 2000s "made a massive difference to our sites", she insists.
"We have a new Millennium Gallery, which opened in 2001, we have a refurbished Graves, we have Weston Park museum completely gutted and refurbished and reopened in 2006.
"What we've done is develop a service which I think is very much of the moment, it's in tune and it's connecting with people."
She points to one of her successors in the social history department who, thanks to pre-crash funding, has been able to work with young people and those with mental health problems.
"It's not about just hiding in the store room and quietly curating the collection," Streets says. "Everything we do is for people.
"That funding has made a difference in that way. It's expanded those horizons. But the harsh reality is that we are where we are.
"It won't be the same level of service. If we had the funding, we would be more ambitious, we would be out there. It does make a difference."