New Tricks stars criticise show's writers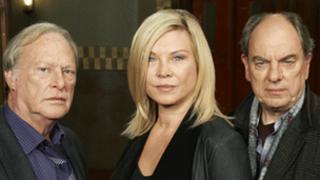 New Tricks star Amanda Redman has told the Radio Times the show is "more bland now" and the characters are not as "anarchic" as they used to be.
Co-stars Alun Armstrong and Dennis Waterman agreed with her assessment.
"My character has got saner. Which I'm not too enamoured with," Armstrong told the magazine.
Waterman added: "We're always talking about history and some writers - not all of them - can go on and on, repeating themselves."
The actors have just finished filming the ninth series of the popular police drama based on solving cold cases, the first without James Bolam, who announced he was leaving last year.
The eighth series attracted the show's highest ever ratings.
Waterman added: "You have to remind yourself that people aren't as stupid as writers think. But that's the way things are going in the industry. Basically, we all want to move to Copenhagen to get to do some extraordinary television."
Armstrong said: "We put a lot of time into making the scripts work.
"If we felt that a story didn't work, or that bits of the story could be improved, then - if the writer wasn't around - we would set about re-writing it ourselves."
Although the cast did not single out any particular writer, one of the show's mainstays has hit back at the comments.
"A New Tricks I wrote and directed airs on Monday. I can tell you EXACTLY how much of it the actors wrote: not a comma," said Julian Simpson on Twitter.
"The following week, Sarah Pinborough's episode is on. I directed that too. Cast contribution to script? Big fat zero."
"I was going to be writing today, instead I'm just going to hand the actors a pad and pen. I wish I'd learned this 15 years ago," he added, before noting: "Worth saying that I get on phenomenally well with the New Tricks cast.
"Just don't appreciate actors speaking out of turn and they know that."
Former EastEnders actress Tamzin Outhwaite, who appears in the forthcoming series, replied: "Oh dear!! I had a great time on it."
The first series of New Tricks was broadcast in 2004 and is one of the BBC's most popular dramas.
The ninth series will begin later this month, with a tenth confirmed for 2013.
The show's writers were nominated for a Writers' Guild Award in 2007.