Green Day unveil album trilogy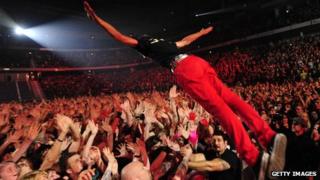 Three years after Green Day's last studio album, 21st Century Breakdown, the California punk rockers have produced a new eclectic mix of punk, rock and pop, as a trilogy. Three albums, ¡Uno! ¡Dos! ¡Tré! will be released over the next five months.
Lead singer Billie Joe Armstrong, bassist Mike Dirnt and drummer Tre Cool started work on the new songs during their last European tour.
"We were renting out studios on our day off in Berlin, Glasgow, Amsterdam and Helsinki and we started writing songs and just doing demos," explains Armstrong.
"After that we were in-between touring and writing a little bit more and everything just started snowballing. We were going for a classic Green Day sound and then it just kept evolving into more and more stuff," he says.
In all, there are 38 new songs.
"As we were writing, the songs kept coming and the quality kept coming," says Dirnt. "And we were, 'wow, we've got a lot of music here and it's really good, lets keep writing.'"
Dirnt adds that it was Armstrong who came up with the "crazy" idea of making three records.
"But crazy enough to pull off."
Each record has a distinctive sound. The band's signature brand of hi-tempo punk is supplemented by pop rock and a number of the tracks have a mellower feel to them.
Fans are expected to hear a selection of songs from the new albums at a one-off gig at London's Shepherd's Bush Empire on Thursday.
"The first record represents more of that classic sound. Then the second record has more of a garagey, party kind of sound - which ends up being the party from hell. And then the third one is more like a record that's more reflecting, maybe a bit of a hangover," says Armstrong.
It is 25 years since Green Day emerged on the California punk scene. Five Grammy awards later, Armstrong says his songs are still inspired by everyday life.
"Everything that you see, that's what I write about," he says.
"Everything that I hear, as far as what people say. Graffiti on the walls, to what a flag represents to me or what New York city represents to me or what a beach represents to me. A girl, sexual tension, a long-lasting relationship, old memories - all of that goes into ¡Uno!' '¡Dos!', '¡Tre!."
The first single, Oh Love, is the final track on ¡Uno.
"It's written from the heart and the crotch area," says Armstrong.
"It's like a tension ballad, it keeps on growing into a massive chorus. I can hear (us) playing the song in front of giant Reading-like crowd, where everyone is singing along."
The records are more about people than politics, although Green Day's political sensitivities are are still on show.
"The Occupy Wall Street movement inspired a song called 99 Revolutions, says Armstrong.
The frontman, who campaigned for Barack Obama during the 2008 campaign, adds:
"The record isn't necessarily politically minded."
Asked whether or not President Obama has lived up to his expectations, the singer says:
"It's a slow process. It's an undoing of a lot of mistakes so I think what I've learned about him being in office right now is how to be patient. He had a big challenge and he had a big difficult job."
Documentary
The new albums may not be overtly political, but Green Day believe their music fulfills a bigger role than pure entertainment.
Armstrong says: "You hear a lot of jaded musicians saying, 'Oh, it's naive to think music can change the world but I don't know, I feel like I've had first hand experience in seeing things change from when we were in the punk rock scene all the way up to American Idiot. I've seen things change, through music."
While they were making the records, the band allowed a documentary film crew to follow them, during the many months they spent in studios around America.
"People ask, 'What's it like to make a record?,'" says Cool.
"This is an inside look, a voyeuristic fly on the wall, so it will answer a lot of questions that we won't have to."
The film is not, as Armstrong explains, like a reality TV show.
"It's more lifestyle - we did a pirate radio station, we built a skateboard ramp, there's surfing in it. It has more in common with an old surf documentary."
Green Day are showing no signs of slowing down, although Armstrong says he has "no idea" how the band is evolving.
"We keep writing the songs and it comes from the same energy that we've always had. I think we just possess a lot of energy which is a good thing. We keep going and try not to look back. Every once in a while you look back a little bit and see what's going on and it's almost like a journal that you've been taking since you were 16 years old.
Now I'm 40 so it's a hell of a long time - it's good for the memory," he adds.
But the ever young-looking Armstrong, acknowledges that with the passage of time, he is more reflective.
"You notice little differences," he says.
"You learn more about life. Maybe some things make you sad, some things make you happy about your memories."
"We've made three albums, so I don't know. Neil Young, to me always stays vital, or Bob Dylan always stays vital, because their main goal is to write their life story without looking back. So that's kind of what Green Day is all about too."
In the coming months, Armstrong will have to juggle promotion of Green Day's new albums with some TV duties. He will act as a mentor on the new series of the American version of The Voice. The veteran frontman has plenty of rock star wisdom to pass on.
"I think it's always about telling the truth, that's what it comes down to, with playing music - always sticking to some sort of fundamentals," he says.
"You always have to keep things fresh and make sure that your soul is in it for the right reasons. That's what creates longevity."
The first album from the ¡Uno! ¡Dos! ¡Tré! set will be released in the UK next month.