Jimmy Kimmel Live to compete with Jay Leno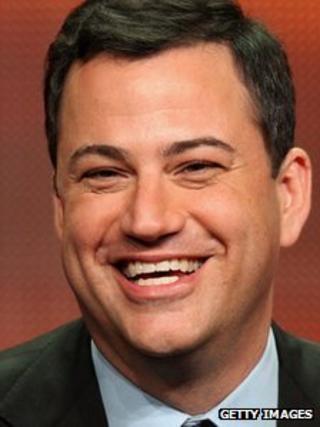 US late-night chat show Jimmy Kimmel Live is to go head-to-head with Jay Leno and David Letterman from next year when it moves to an earlier time slot.
The ABC network said the change was to take advantage of the show's ratings, which increased by 3% last season.
An average of 1.8 million viewers tune into the show, compared with 3.7 million for Leno on NBC and 3.1 million for Letterman on CBS.
Kimmel's show will begin at 23:35 EST from 8 January.
News magazine Nightline, which beats all three chat shows with 3.9 million viewers, will be pushed back an hour to 00:35.
The network said Kimmel was the only late-night talk show host to have increased his viewers both overall and in the 18-49 age group coveted by advertisers.
"Given the passionate fan base Jimmy Kimmel Live has built over the past decade, and the show's ratings and creative momentum this season, the time is right to make this move," said Anne Sweeney, president of the Disney/ABC Television Group.
Kimmel said: "You work all day on the show and you want as many people to see you as possible."
The host said he would not make changes to his format. Current segments include This Week in Unnecessary Censorship - where inoffensive TV clips are bleeped to imply they are offensive - and How Is This News? which feature real news stories deemed to be non-newsworthy.
Besides Leno and Letterman, the time slot is also home to other chat shows including The Daily Show with Jon Stewart and The Colbert Report on Comedy Central, Conan O'Brien on TBS and Chelsea Handler on E! Entertainment.