Elbow singer Guy Garvey to launch vinyl record label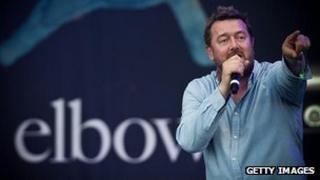 Elbow's Guy Garvey has said he is starting a new record label solely for vinyl EPs to revive the format.
The singer told the BBC he was inspired to begin the project by EPs of the past and would be challenging fellow artists to try out the multi-track format.
Each EP - which also comes with a free download code - will have four tracks, where one must be an instrumental and another should contain spoken word.
"We don't want disposable songs - we want a 20 minute record," he said.
In an interview to be broadcast on BBC Radio 4's PM programme on Thursday, Garvey said EPs were becoming increasingly important.
"Young bands that are perhaps self-financing and have to make money through touring can release three EPs rather than one album," he said.
"That's three times as much excuse to tour, so it's working commercially."
The singer added making an EP was a good challenge for a music artist.
"You're making something that somebody who really loves your music is going to go and find - it's like leaving a note in your lover's pocket that they won't find for six months."
Garvey will be setting up the label with Jim Chancellor, the head of Fiction Records, Elbow's record label.
The Mercury award-winning band created the anthem for the BBC's Olympics coverage and performed their hit One Day Like This in front of a TV audience of more than 26 million at the Olympics closing ceremony.
Elbow's B-sides album Dead in the Boots is out this week.