Feist wins Canadian music prize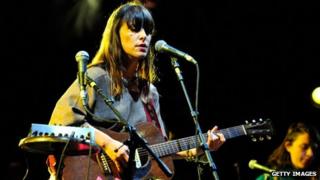 Canadian singer Feist has been named the winner of the 2012 Polaris Music Prize, for her album Metals.
The award, Canada's answer to the UK's Mercury Prize, recognises the best album of the year by a Canadian artist.
Leslie Feist fought off competition from fellow artists including Grimes, Japandroids and rapper Drake.
Last year's prize, worth 30,000 Canadian dollars (£24,000), went to The Suburbs by Montreal-based band Arcade Fire.
It is the first time Feist has won the Polaris prize, having previously been nominated in 2007 for her album The Reminder.
She thanked those who had "really listened" to Metals, saying that winning the award was "like getting the Valentine from the right boy".
"I haven't had a second to consider how to talk about this yet," she said after winning the prize.
"But what I want to say is thank you to the people who really listened to my record. I'm genuinely grateful from one solitary listener to another. Honestly, thanks."
Accepting the award from Arcade Fire's Jeremy Gara and Tim Kingsbury, 36-year old Feist paid tribute to the other acts on the 10-strong shortlist.
Toronto rapper Drake, Vancouver rock duo Japandroids and Montreal electro-pop act Grimes were shortlisted respectively for their albums Take Care, Celebration and Visions.
"Every band on the shortlist - not to mention so many bands that didn't make the shortlist - belonged to be here tonight," said Feist.
The winner of the seventh annual prize was decided by a jury of 10 journalists, bloggers and broadcasters.