Gridlocked DJ hosts show on phone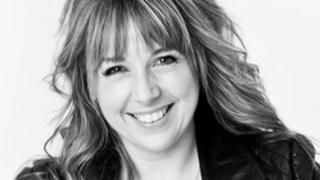 A Breakfast DJ was forced to broadcast her entire show from her mobile phone after she became stuck in traffic a mile from the studio in Newcastle.
Presenter Anna Foster set off early on Thursday for her 06:00 start on Magic 1152, but an hour before the show's start she found herself gridlocked.
With more than 100 cars ahead, 3ft of water and high heels, she proposed hosting the show via her mobile phone.
Magic marketing director Don Munnelly called the live show "fantastic".
"Anna was panicking a little bit at the start, but it turned out to be one of the best shows we have done."
"There was lots of crowd reaction... word got around that there was a live radio show taking place in the jam, and people were walking up the line to join in," he told BBC News.
Battery power
A producer was sent into the studio to line up the songs, and Foster provided the links and chat.
Unusual studio guests included police officers, postmen and factory workers, all of whom were trapped in the same traffic jam.
Ultimately, the presenter hosted the four-hour show, between 06:00 and 10:00, on her mobile phone, with her battery running out - as her father, a maths teacher, had predicted - at eight minutes past 10.
"To be honest it was a throw away suggestion to my boss that I could do the show from my car using my mobile phone," she told industry website Radio Today.
"There was a great spirit amongst the people and the hours flew by.
"I was convinced the jam would start moving but I finished my show drenched through at 10am in exactly the same place as where I had stopped at 5am."
"It just goes to show with a bit of determination and a decent phone battery anything is possible."
The presenter has fronted the Breakfast show for the past three months, having joined the station in June.