Two arrested over $10m art theft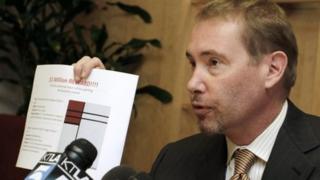 Two men have been arrested after art worth up to $10m (£6.2m) was stolen from a home in Southern California.
Bond trader Jeffrey Gundlach, who had offered a $1.7m (£1.3m) reward, returned from a trip on 14 September to discover paintings, jewellery and his Porsche Carrera missing.
The art collection included work by Piet Mondrian and Jasper Johns.
Police said most paintings were found at a car stereo shop in Pasadena.
They searched the property after a tip-off from local officers, and arrested manager Jay Jeffrey Nieto, 45.
Sgt Richard Lewis said in a statement that they recovered four more paintings at a home in nearby San Gabriel, where they arrested Wilmer Cadiz, 40.
One final painting was found at another home, along with a person who is said to be co-operating with police enquiries.
It is not yet clear whether anyone is eligible to claim the reward.
Prized Mondrian
Mr Gundlach had returned to his Santa Monica home to find more than a dozen paintings by artists such as Mondrian, Joseph Cornell and rare one-of-a-kind works by contemporary painter Jasper Johns.
He had offered $1m (£600,000) just for the return of his collection's star piece, Mondrian's Composition (A) En Rouge Et Blanc.
The paintings were the most vaulable items stolen in the burglary but expensive watches, wine and the Porsche that the thieves apparently drove away in have yet to be found.
"The focus was on recovering the artwork, and it was all recovered," said Gundlach, who is the founder, CEO and chief investment officer of DoubleLine Capital.
"The thieves had worked on moving the property, but we were able to get a good lead and apprehend them. It's a great day for the art world."